Thailand has always been an ideal destination for honeymooners because of its extraordinary beauty that is renowned around the world. Ultra luxurious hotels and resorts with jungle retreats or beach enclaves to have a private candlelit dinner or simply hand in hand enjoy the star attractions are what you will need for an insanely romantic getaway in an exotic location.
Based on these sole criteria established by Exotic Voyages travel experts, here is the full list of top 10 romantic hotels for Thailand that can spark your sweet honeymoon.
An outdoor swimming pool at The Siam Bangkok overlooks the beautiful Phraya River (Photo: The Siam Bangkok)
For a luxuriously peaceful escape from a mad Bangkok, The Siam Bangkok will walk you through a stunning and urban sanctuary that is filled with exquisite art and antiques awaiting you to explore. Built amidst 3 acres of the tropical lush garden on the beautiful Chao Phraya River, this hotel, no doubt, is a privately charming spot for your love story.

Photo: Forbes
For the ultra-luxury indulgence, The Siam Bangkok will bring you back the post-colonial era of the King Rama V that make you feel like being treated as King and Queen in an authentic Thai mansion. Straw fedoras, steamer trunks, vintage clocks coming with rooftop terraces and plunge pools are definitely romanticly gorgeous things for a special celebration. The outstanding exterior is covered with the fresh green – a perfect combination of eco-colonial and luxury style giving you a feeling of being Charming Prince and Princess in a fairy garden. 
The award-winning opulent Opium Spa (Photo: The Siam Bangkok)
Everything here is pampered and secluded, from the award-winning opulent Opium Spa to a luxurious gym that overlooks a neighboring monastery, and finest dishes with timeless Thai flavors in a teak wood house at Chon Thai restaurant along the river to share an unforgettable experience with your spouse.
Nothing more romantic than having dinner with your darling spouse while enjoying the iconic sunset 
Ideally located along the bank of the Chao Phraya River, Sala Rattanakosin Bangkok is a luxury hotel overlooking the iconic Wat Arun – the infamous temple of the dawn. It also offers spacious, gorgeous riverfront suites with a king size bed with an open lounge area that you can hold your love in arms and admire the splendid view of the river and Wat Arun as well.
(Photo: Sala Rattanakosin Bangkok)
The Sala Rattanakosin restaurant, to be honest, provides couples with one of the most romantic views in Bangkok. Thanks to the privileged location, you will have a picturesque backdrop of Thai cultural monuments while tasting exotic Thai and Mediterranean style food and drinks at the rooftop with candles around or through full floor-to-ceiling windows. What a magic moment!
(Photo: Sala Rattanakosin Bangkok)
This Bangkok boutique hotel is just one minute walk from the star attractions of the city, for example, the Grand Palace, Wat Arun, Wat Po Temple, and other significant spots. Walk together and explore every corner of the ancient town to complete your romantic getaway.
The historic Rachamankha Chiang Mai (Photo: Rachamankha Chiang Mai)
Beautifully situated in the center of the historic Chiang Mai city, Rachamankha – a luxury boutique hotel tends to evoke a receptive mood and excite curiosity instead of revealing itself to passerby. Hence, it appears a private, and mysterious world just for two of you. Once you pass through its forecourt, you will be impressed with the sophistication and simplicity of the beautiful colonnaded courtyards making a fantasy world of contentment and serenity that is ideal for a romantic getaway.
Thai art and Lanna artifacts which not only tell you history but preserves it for future generations 
The unique architecture draws much of its inspiration from the 11th centuries B.C. vernacular Chinese dwellings – the root of Northern Thai architecture. Rachamankha, in fact, was designed by Ong-ard Satrabhandhu – the talented architect – in the style of a residential area in order to arouse a true feeling towards the culture and history of Lanna Chiang Mai. A leisure walk in the captivating gardens with your beloved one under the night sky full of stars is perfect for exchanging vows.
The Library at Rachamankha (Photo: Rachamankha)
Exuding an ancient world of character and charm, The Library at Rachamankha – an outstanding feature, is an elegant house of more than 2,000 books from novels to valuable pieces of work on Thai history of design, architecture, and culture. Staying in the comfortable, relaxing lounge, enjoying each other's company, taking refreshments while being immersed in delightful books are what you would like to do in your romantic travel.
The peaceful atmosphere at 137 Pillars House Chiang Mai (Photo: 137 Pillars House Chiang Mai)
This a five-star luxury hotel that you cannot miss in Chiang Mai. 137 Pillars House Chiang Mai is a place where heritage meets modern haven – a nostalgic combination of historic Thai architecture and contemporary design for you to turn back the clock with a sweet melody.
The creation of the gorgeous 137 Pillars House Chiang Mai was based on the Baan Borneo – Northern Headquarters of the Borneo Trading Company established over 100 years ago. In the past, the wealth and importance of a property owner were decided by the size of his Lanna style Thai house, and how many pillars (sao) it had. After counting, the ancient house owned 137 sao and you will see a reference to 'Baan 137 Sao' – 137 Pillars House.
Photo: 137 Pillars House Chiang Mai
Tranquil ambiance, large terraces, expansive daybeds, views to the gorgeous tropical gardens, and taking a little sip of champagne will form a classy but intimate background in which private conversations take place. A very large bathroom with separate indoor and outdoor garden showers as well as a Victorian bath will sharpen every sense.
Culinary delights in the complete privacy (Photo: 137 Pillars House Chiang Mai)
Savouring the culinary delights in the complete privacy of your suit that presents à la minute prepared dishes from the freshest ingredients is a must in your memorable honeymoon. This is a once-in-a-lifetime opportunity to sample superb Lanna cuisine, and don't forget to have handcrafted and contemporary cocktails at Jack Bain's Bar.
The Sarojin Phuket 
Photo: Khaolak Hotels
Not far from Phuket, there is a five-star boutique resort that is ideally located on the coast of Phang Nga Bay facing the beautiful Andaman Sea – The Sarojin – a must-try experience for honeymooners.  With 10 acres of tailored and trimmed tropical gardens of Khao Lak which surrounds an ancient ficus tree, this ultra-luxurious hotel preserves pampered and complete privacy against a picturesque leafy backdrop. Hence, you and your darling spouse can freely enjoy the romantic atmosphere without any minor disturbance.
An idyllic setting for your romantic dinner (Photo: The Sarojin)
Even when you come here to spend your intimate honeymoon, arrange your extraordinary wedding, or simply for renewal of vows, The Sarojin offers various ways to intimately and romantically celebrate your love for each other in idyllic settings. Stars glow, flame dances and your bare feet sink in the soft sand as you are led to your own barbecue dining on the beach with candlelight around; or relax in its tropical gardens, listen to the sound of nature, and attend a candlelit, romantic, and private dinner on the pool pavilion that ensures the maximum privacy.
The Lady Sarojin (Photo: Pinterest)
Do not miss The Lady Sarojin – a luxury boat that is exclusively available for private charter! Cruising, snorkeling, and scuba diving in the Phang Nga Bay, Surin Islands, or Similan Islands to explore renowned coral, marine life, underwater beauty, and white sand beaches are perfect for you two to spend precious time with each other as well as savor the happiest moment. Importantly, you two will deeply regret not watching the glow of sunset on Phang Nga Bay – top must-do romantic things for couples in Thailand.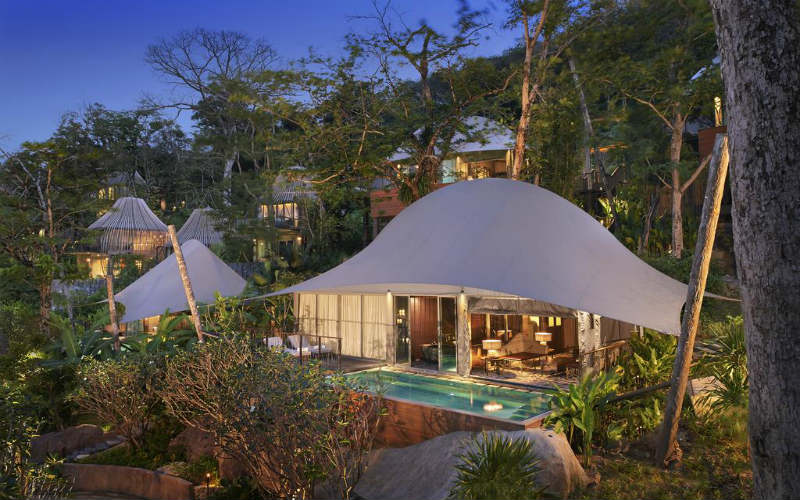 Keemala Phuket pool villas
Seed pods, thatched hobbit holes, and bird's nests – Keemala Phuket pool villas are a fascinating mix of myth and history, that is loosely based on the ancient tribe dwellings with amazing architectural anomalies. Nestled in the glorious greenery, you can take a morning swim, shimmer in the sunlight, and gently caress each other in the total privacy.
Photo: Keemala Phuket
It would be a big loss if your romantic hideaway does not include the holistic living retreats. Together, take your time to receive this exceptional offer for purifying, energizing, unwinding, rejuvenating through encompass massages, daily spa cuisine, wellness guidance and consultation, and enhancing body exercises. Your stay will be much more memorable and uplifting with brighter skin and soothe the mind.
Photo: Keemala Phuket
Commemorate your wedding anniversary or just begin your love story in style, Keemala provides you with breathtaking settings in captivating surrounding at any juncture of romance. You will enjoy the absolute delight in the charm of unique villas, cottages, and indulge in each other.  
Six Senses Yao Noi – a spirit of adventure and privacy (Photo: Six Senses Yao Noi)
With a surreal backdrop created by the dramatic limestone pinnacles which rise from the water of Phang Nga Bay, Six Senses Yao Noi – a spirit of adventure and privacy – establishes the highest standard in the island resort living in Asia. Undoubtedly, this is a heaven on earth for newly married couples.
Photo: Six Senses Yao Noi
The Pool Villas give you gorgeous personal space and allow couples to enjoy an uncompromised lifestyle while the Sea View villas present spectacular views of Phang Nga Bay. Meanwhile, the Mountain View ones face magnificent plantation of rubber trees. Along with the natural materials used in the modern architecture, this combination is like an assault on the senses – imagine you in bed holding your love, admiring the stunning sunset, and listening to the pleasing sounds of nature.
Get amazed by the untouched beauty of Yao Noi tailor-made settings (Photo: Six Senses Yao Noi)
In addition, remember to get yourself amazed by the untouched beauty with Yao Noi tailor-made excursions. It might be water sports to enjoy the vibrant colors and fish; 'not to be missed' paradise – Phi Phi Islands; Islands sunset BBQ; or cruise around the Andaman Sea in style and feel the romantic love in the air.
Find out more about top 10 romantic restaurants in Thailand 
W Retreat – Koh Samui
A unique tropical paradise – W Retreat Koh Samui (Photo: Booking.com)
Your journey will become very special with a nine-mine of a tropical paradise – W Retreat Koh Samui in which a tropical beach, personal pool villas, six restaurants, and bars momentarily light up your great nights.
Photo: W Retreat – Koh Samui
Located between Bophut and Maenam, the luxury W Koh Samui will show you the most pristine and finest beach location in this tropical country. All of the pool villas give you the excessive, private indulgence that couples could ask for. This is where sweet conversations take place while falling in love with splendid sea views. Also, don't forget to lose yourselves in paradise by using Romance Spa Package at Away Spa. Try natural healing therapies, enjoy their extraordinary thermal bath, get inspired by the Mexican Temazcal ritual to purify and refuel your body and soul.
Photo: W Retreat – Koh Samui
Want to have a quality time for each other without the appearance of anyone else? With the toes in the white sand and the wonderful Gulf of Thailand surrounding you, Beach Grill at W Retreat can offer you two the best food on the beach. From mouthwatering grilled seafood to the freshest Thai salad, to alluring pork sandwiches, this special offer is totally ideal for a sunny day out.
The Library – Koh Samui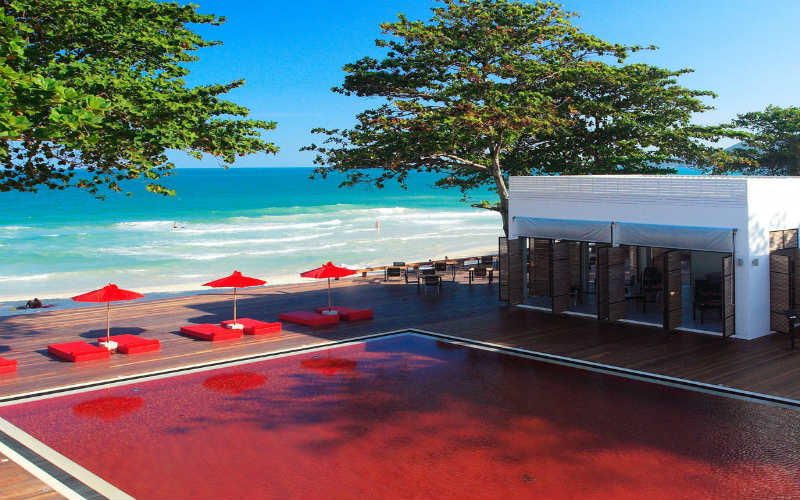 A minimalist resort (Photo: The Library) 
Different from the alluring backdrop of Chaweng Beach, The Library – a beachfront hotel – appears as an elegant monograph inviting you to together sit in a peaceful contemplation with a good book while admiring the unmatched luxury and natural beauty. This minimalist resort offers you and your darling partner a private space to read, roam, and enjoy each other's company.
The tasty West-meets-East cuisine with a homey feel and fantastic presentation (Photo: Eating on Samui)
Its Drink Gallery is a very special dining platform that you cannot find anywhere else in Koh Samui. An upmarket restaurant and bar in which you can sip a celebratory drink, hum along with some catchy tunes, and still have a heart-to-heart talk with your spouse.
The restaurant is a delightful blend of sophistication and casualness. Dishes are artistically simple creating a cozy and comfortable feel with tastefully layered drinks. All of them work as seasonings for a romantic night discussion that you have always dreamt of.
Haad Tien Resort – Koh Tao
Photo: Haad Tien Resort
Built on one of the most pristine and beautiful bays in Thailand, Haad Tien Resort is undoubtedly a perfect place for honeymooners who are in search of a romantic escape. As a beachfront resort, Haad Tien will provide you with an exotic taste of barefoot luxury. The beach opens out onto a crystal blue shallow lagoon with a number of private pools in their ideal seaside villas – all for you to take precious moments in the complete privacy.
Haad Tien Pool Villas (Photo: Haad Tien Resort) 
The ultimate seaside pool villa at Haadtien Pool Villa will bring you total privacy and comfort apart from the breathtaking views of the bay. Otherwise, the interpretation of Haadtien beach bungalow is specially designed in harmony with a concept of the barefoot luxury to give couples romantic experiences surrounding by nature.
The luxury Tien Spa (Photo: Haad Tien Resort)
Your journey will not be complete without experience the luxury Tien Spa. Ease your body tension by having a relaxing full-body massage and savoring its tranquil setting to be energized.
Find out more about top destinations for honeymoon in Thailand
Interested in a luxury romantic trip? Visit our Thailand journeys to experience these heavens on earth, and create an unforgettable escape with your beloved one.