With a wide range of biodiversity, and nearly 2,000 limestone islands rising from the emerald water of the Gulf of Tonkin, Halong Bay or the Bay of Descending Dragons, was declared a UNESCO World Heritage Site in 1994. Its majestic landscape was amazingly filmed in the famous Indochine (1992), and the box-office blockbuster Kong: Skull Island (2017). Numerous islands topped with rainforests and mysterious wave-eroded grottoes unsurprisingly make Halong Bay become number one tourism hub in Northern Vietnam. It cannot be denied that the best way to explore this myriad of exotic islets and hidden gems is by going on a cruise. However, with a large number of options and itineraries, how will you choose the one that suits your personal interests?
Suggested by Exotic Voyages experts, here are top 8 luxury cruises for your Halong Bay excursion.
Bhaya Cruise
As a member of Halong Bay's largest fleet of cruise boats and ships, Bhaya Cruise will bring you a rewarding experience of both magnificent scenery and exotic taste of rich traditional culture Vietnam. Each Bhaya Classic boat is constructed in an oriental and classic style working with modern facilities to satisfy every aspect of your comfort. Meanwhile, wooden furnishings heightens the sense of timeless elegance like a natural extension of Halong Bay, so the classic feel has set Bhaya Cruise apart from other cruise vessels on this planet.
An early morning Tai Chi session of light exercise poses on the sundeck is a perfect way to kick off your day in Halong Bay. Immerse yourself in the magical sunset while awakening your mind and body.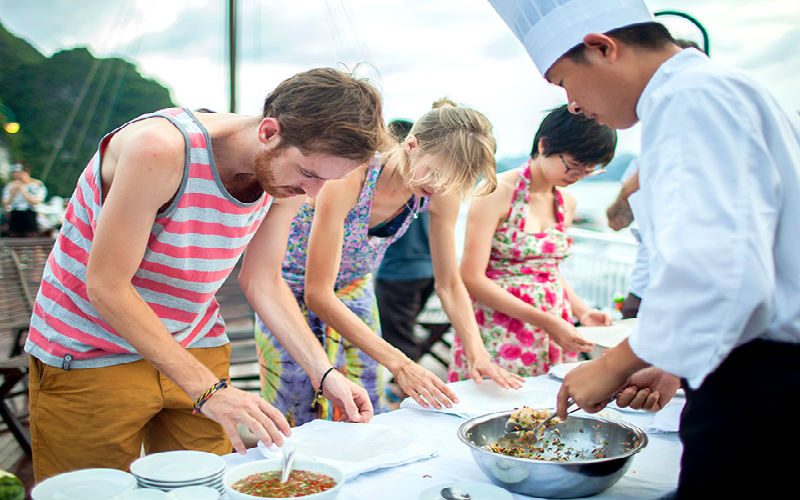 Why don't you join the Masterchef Competition to learn and practice how to make spring rolls – the most famous and tasty Vietnamese dish? It is lovely to try your hands with rice papers and various ground gradients, and you will see how patient and skillful you are! This would be a memorable moment when staying here.
Responsible cruising including multiples CSR projects by Bhaya Cruise is specially designed to protect the bay's environmental integrity. Some of their significant programs are Save the Langur to save a kind of leaf-eating monkey called Langur, Bhaya Community supporting the local economy, and Bhaya Green to preserve ecological balance in Halong Bay.
Emperor Cruise
Inspired by the lavish style of Emperor Bao Dai, Emperor Cruise is an all-inclusive cruise in Halong Bay that you can explore the breathtaking natural scenery, enjoy the utmost in luxury, and top-notch services while discovering Vietnamese history and culture.
The Panorama Restaurant, Lounge, and Bar guarantee beautiful views of ever-changing fairytale landscapes. Here you can freely sunbathe or have a cool drink at the bar while admiring the superb panorama, the stunning sunset, or even joining an interesting cooking class and wine tasting. The eatery is spacious enough to offer you relaxation options as well as an open-air cinema.
Taking the first rays of sunshine and attending a Vovinam session – traditional Vietnamese martial arts – seems to be an ideal way to start your new day. Likewise, you are introduced to the old Vietnamese art of drinking tea, savor the finest Vietnamese coffee, and even try your hand to make the iconic café filter or iced milk coffee for yourself. Not only tea and coffee, the cruise also serves complimentary wines, soft drinks, beers, spirits, and cocktails.
Jasmine Cruise
As the second of the 'Three Sisters' operated by Heritage Line, Jasmine is built in the style of a traditional Vietnamese junk with three tawny sails and dark wood-cladding. Both Jasmine's exterior and interior are covered with polished wood that gives you a feeling of getting on an Indochina era cruising boat. With 12 Superior cabins, 9 Deluxe cabins, and 2 Jasmine Junior Suites featuring marvelous wooden finishing, you will love these cozy, yet classy accommodations.
As the most gorgeous and only populated island in Halong Bay, Tuan Chau Island features a luxurious pine forest with two man-made lovely beaches that you should not miss when taking Jasmine Cruise. It has many interesting attractions such as sea lion, dolphin club, rural market, ornamental fish lake, and luxury villas by the beach. In addition, Sun World Halong Park, situated at the heart of Halong City, is the largest recreational complex in Vietnam that will make you feel living in a mysterious Dragon land. It consists of two main sectors – Beach amusement complex and Mystic Mountain complex connect by a sea-crossing cable car line.
Violet Cruise
Belongs to the Heritage Line's family of luxury boutique cruise ships, the coquettish Violet is named after an elegant purple-flowered plant growing on the rocky slopes of Halong Bay – Violet Chirita. The junk features wooden floors, velvet, and cabins with floor-to-ceiling windows for you to enjoy stunning views of Halong Bay.
This newest 5-star junk is exquisite and small with 6 individual themed cabins only. The two Junior Suites – Water and Mountain are individually designed and finished by attention-to-detail artifacts and modern furnishings. Apart from the Italian marble bathroom, both of them are ideally located on the main deck with a private 6-sqm balcony.
While Water and Mountain have an ocean-like ambiance, Dragon, Phoenix, Moon, and Cloud – 4 Violet Imperial Suites appear like a romantic fairytale. With the 1930s Indochine décor, these cabins will bring you an exotic regal aura through golden and silver elements of Dragon and Phoenix, or wistful sky-blue or dreamy-white outfit of Moon and Cloud. Situated on the upper deck, you can admire the full views of the bay from a private 5-sqm balcony.
Its French Colonial restaurant is something special that you should experience during your trip. This eatery will make you feel like a bourgeois living room to make friends and have a tête-à-tête while sipping vintage red wine. With set menus and a wide range of à la carte dishes, you can sample both local and international cuisine, but seafood is worth a try. If you are seeking something romantic, or simply, a pleasant surprise for your darling spouse, ask them to host a dinner on the sundeck with an exclusive set up of lanterns under the sky full of stars.
Indochina Sails
There is no doubt that Indochina Sails is one of the top choices for you to explore one of the most spectacular natural wonders. Until now, it has launched 4 boats – 1 Indochina Sails 14 cabins, 2 Indochina Sails with 15 cabins, and the largest one with 23 cabins. Their rooms are beautifully designed with a unique combination of traditional style and modern amenities. Aside from the Superior, Deluxe, Suite, President Suite with Double and Twin Beds, Indochina Sails offer special rooms for honeymooners, couples, or small families called the Valentine to enjoy a private and intimate atmosphere. All of them are wholly built of aged wood – Huong timber which is good for your health as well as creates a rich and warm ambiance.
Lunch on Floating Platform is an exotic and new way of admiring the breathtaking seascape of limestone pillars but still have a delicious lunch at the central Halong Bay
If you fancy the idea of engaging in outdoor activities besides the daily cruise itinerary, the Customize Private Itinerary should be considered. The staff will help you hire a private junk to begin your own journey, and this is an excellent chance to sail further to find hidden gems in Halong Bay. Explorers will love it because island climbing, kayaking swimming, and cave visiting can be performed to be overwhelmed by the wealth and beauty of wildlife.
Paradise Luxury Cruise
With the flexible 1 – 2 night programs and excursions, Paradise Luxury is a traditional wooden junk blending chic, modern styling, and ancient Vietnamese detailing. The warm interior exudes an old-world charm that would bring you back to the old time. Its spacious sundeck with comfortable lounge areas and sunbeds are positioned to help you take in the impressive scenery of emerald waters of Halong Bay as well as dramatic limestone formations.
Not only that, take your time to visit authentic Vietnam at Cua Van Floating Village – one of the most beautiful ancient villages in the world voted by Journeyetc.com. Located at Hung Thang Commune, and surrounded by limestones and islets, this area is home to 733 people living on floating houses. Living primarily by fishing, the locals still roam around to collect garbage, so that they can reduce the risk water pollution, and protect the community. Therefore, the village has gained great respect from travelers all over the world.
Your trip to Halong Bay is also about recharging yourself in a gorgeous environment, so do some spa with fully trained therapists at the world-class Le Parfum Spa. With 4 treatment rooms, the spa provides plenty of facial, body, and foot therapies in both traditional and contemporary methods.
Signature Ha Long Cruise
Meeting the 5-star standard, Signature Ha Long Cruise combines the design of contemporary and handcrafted wooden decorations in order to maximize your pleasure and convenience.
With Signature experienced chef team, you will love an incredible food tour that presents you all unique specialties throughout Vietnam. For North Side, you can try the infamous 'Pho', 'Bun Cha', 'Banh Mi'. Coming to Central Vietnam, do not miss 'Bun Bo Hue' and 'Banh Bot Loc'. 'Hu Tieu Nam Vang' and 'Bun Thit Nuong' are the signature dishes in South Side.
Princess Junk Ha Long Bay
First launched in 2007, Princess Junk has been a perfect selection for couples who like privacy, romance and memorable moments. With 4 luxury junks, the Princess Junk will bring you a delightful blend of meticulosity and sophistication to provide couples the most amazing weddings or honeymoon.
Specially designed for the holiday romance, you can ask for al fresco dining on the lounge deck to hold an elegant and candlelit dinner while enjoying the scenic beauty of the bay with a lot of high-quality wine selections. However, if you are looking for somewhere completely private like a 'just for two' corner, BBQ dining at a secluded beach or in the cave will set a sweet tone for your special celebration.
On Bai Tu Long Bay cruises, take your time to explore the exotic attractions like Vung Vieng village, Hon Co Beach, and Thien Canh Son Cave. Ngoc Vung Island, Quan Lan Island, and Co To Island should be also on your bucket list because their inhabited beaches have the most crystal-clear and fine golden sand in Northern Vietnam. The Bay is home to Bai Tu Long National Park which has a terrestrial and aquatic zone.