From the snowy mountains of Tibetan plateau, Himalaya rises Mekong river, the 12th-longest river of the world that flows through 6 countries in Asia, 5 of them are in Southeast Asia. The river becomes a connection among the nations it runs through and makes Mekong Cruise one of the most interesting way to explore the indigenous culture of the communities by the Mekong river bank. However, because of the vast area the river flows through, choosing a perfect Mekong Cruise seems a bit challenging. This is the reason why you should read this article.
Reasons for an expedition around Mekong Delta
The Mekong covers a massive area of about 795,000 km2 and a great length of 4,350 km. Hence, a Mekong cruise leads you through a wide variety of topography ranging from vast salt marshes, wetlands, flooded forests with giant limestone mountains and even a huge freshwater lake. This diverse geography has been home to a large number of species. In fact, the Mekong aquatic biodiversity is only second to that of the Amazon. It is estimated that there are up to 430 of mammals, 1,200 of birds, 800 of reptiles and 850 of fish inhabiting in and around Mekong river. Mekong delta formed around Mekong river is also the land of more than 20,000 species of plants, including star apple ("vu sua" in Vietnamese), dragon fruit, durian,…, many of which you may not ever see before.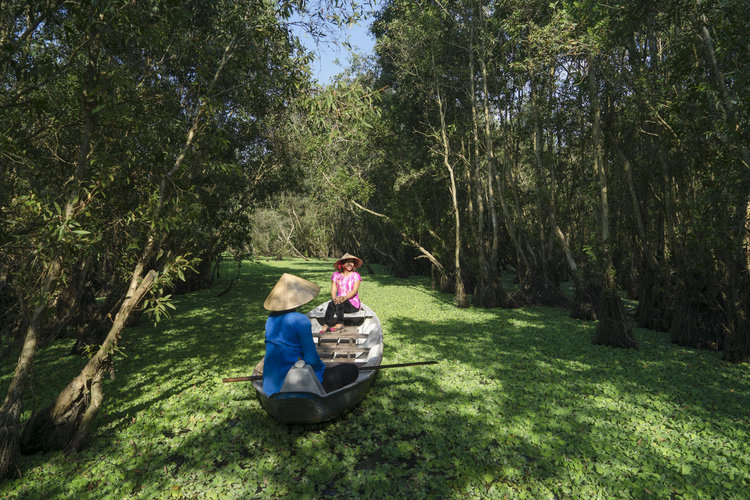 Furthermore, the life of Southeast Asian people by the river bank is so much vibrant despite the lack of super high-technology industry. The villagers beside the Mekong base mostly on agriculture and fishery. They "live on" the water both literally. Have you ever heard of "floating markets"? No skyscraper is needed for trading and exchanging locally-grown produce, all the Mekong goods are sold and bought from boats to boats. A Mekong cruise will bring you the chance to witness this exotic social life on the water with your own eyes. You can even deeply join in local people's everyday life by moving from a boat to another to find for yourself the best tropical offering of Mekong Delta. This must be the most memorable cultural exchange in your whole life.
Key Stops in Mekong River Delta
The Mekong is the 12th longest river worldwide. The river course spreads over 6 countries: China, Myanmar, Laos, Thailand, Cambodia, and Vietnam. Laos, Thailand, Cambodia, and Vietnam. In its downstream area, the Mekong has formed Mekong Delta, which is called a "biological treasure trove" by scientists. Most part of the Mekong Delta is situated in the south of Vietnam and has the name "Nine-Dragon River Delta" due to the fact that Mekong River empties into the sea through a network of 9 distributaries in Vietnam. There are several highlights you should not ignore in your Mekong expedition.
Luang Prabang must have the name meaning Royal Buddhist Image thanks to numerous Buddhist temples and monasteries. It is the ancient royal capital of Laos, 33 out of 58 villages here comprise the UNESCO Town Of Luang Prabang World Heritage Site. In Luang Prabang, visitors can have a significant view of the confluence of the Nam Khan and Mekong River from Phou si mount via a steep staircase leading to Wat Chom Si shrine.
In spite of being an increasingly hot tourist attraction, Siem Reap still keeps a sense of Cambodian national identity with the dominance of Khmer architecture and the 12th-century temple of Angkor Wat as well as the fortified city of Angkor Thom. This is also home to Tonle lake, a seasonally inundated freshwater lake connecting to Mekong river. Tonle lake is the largest freshwater lake in Southeast Asia with the maximum surface area of 16,000 km2 and the maximum depth of 10 m.
It is the capital of Cambodia in 1432, and then again in 1865. Phnom Penh lies at the junction of the Mekong river and Tonle Sap river (the river connecting Tonle lake with the Mekong). When in Phnom Penh, tourists can enjoy a walk on the river bank and sightsee the ornate Royal Palace, Silver Pagoda and visit the National Museum, where artifacts from around the country are displayed.
Tan Chau (An Giang, Vietnam)
Mekong river first comes to Vietnam in Tan Chau, An Giang. It famous for deep black silk dyed with the berries from the Diospyros mollis (ebony tree). Another delicacy of Tan Chau is floating fish farms of about 140,000 red tilapia fish with high nutrition and flavourful taste.
Vinh Hoa (Ben Tre, Vietnam)
Vinh Hoa is a green island surrounded by several branches of the Mekong. This "floating" village can be reached via ferry or sampan. During their trips, visitors may see local farmers working their fields by hand and wearing traditional conical hats made of palm leaves, which is such a perfect way to explore Mekong citizens' lifestyle.
Sa Dec (Dong Thap, Vietnam)
Famous for lively floating markets, Sa Dec is where you can find the most indigenous yet exotic things like rats (served fried), snakes, frogs, snails and duck embryos. If this kind of specialties is too much, there are still plenty of Vietnamese traditional foods such as bun Rieu Cua, hu tieu (cooked in Southern style) and hundreds of tropical treasures.
Cai Be (Tien Giang, Vietnam)
If Sa Dec has vibrant markets with a lot of exotic things, floating markets in Cai Be is the most dynamic in the southwest countryside of the Mekong Delta because of the volume of exchanged goods.
Ho Chi Minh City/ Saigon (Vietnam)
The last-but-not-least destination is Ho Chi Minh or Saigon, used to be called Pearl of the Orient. It is the center of Southeast Asia, a young, fast-growing city with French-architecture inspired buildings.
Which routes to choose?
The best route to discover Mekong river and delta for you varies according to the amount of time you have, the expense you can afford and your health condition as well.
If you are able to spend a lot of time for a Mekong cruise and willing "let the moths out of your wallet" to explore the Mekong extensively, a long tour to all 2 or 3 countries (Laos, Cambodia, and Vietnam) will meet your need. However, a great amount of time on board should be taken in your consideration, particularly when you used to suffer from seasick or carsick. There are a large number of options for your Mekong cruise.
Best Mekong Cruises
To have the best experience during your Mekong trip, it is very important that you choose a reputable cruise line. Some of the familiar names when it comes to Mekong cruises are as follow.
Heritage Line is a joint Swiss-Vietnamese venture, providing luxury river cruising between Vietnam and Cambodia. It takes you on romantic, pastel-colored cabins with quaint wooden bars and restaurants which serve not only local delicacies but also luxurious dishes. Decorations on Jahan Cruise of Heritage Line are intricate wood carvings, Khmer bas-reliefs and Vietnamese lacquer paintings resembling a floating art gallery. Heritage Line offers guests three routes with different time periods and different highlights to cater for different situations of clients.
Bassac Cruises are a part of TransMekong, a family company established in 2003 in Can Tho, Vietnam by a Franco-Vietnamese couple. The Bassac charms guests with trips into the greener areas of the Mekong Delta, deep into the local life. Ships are entirely built according to the local marine traditions with several adaptations for discovery cruises, open to the outside and offering an immediate contact with the lively surrounding.
Suggestions for land tours and cruises
There are a vast majority of destinations in a Mekong Cruise, however, visitors often do not have a great amount of time for such a long trip. Moreover, many people can't stand a great amount of time on board. Therefore, below are some suggestions for trip schedules to make optimize your trip.
Option 1: Finding Vietnam & The Lost Temples of Angkor: It's like a journey through times, where you are transferred from the hustle bustle of modern cities like Hanoi and Saigon to the unique heritage of Hoi An ancient town and the ever so impressive Angkor Wat.
The schedule is: Hanoi – Halong Bay – Hoi An- HCM (explore Mekong Delta by sampan) – Siem Reap
https://www.exoticvoyages.com/best-vietnam-cambodia-tour/
Option 2: Indochina Essence: Visit the historically and culturally important sites of the three countries Vietnam, Laos & Cambodia to understand their people, their way of living as well as the natural wonders that these countries hold dear.
The schedule is: HCM – Cai Be – Hoi An – Ha Long Bay – Luang Prabang – Siem Reap
https://www.exoticvoyages.com/indochina-essence/
Small tips to better your Mekong trip
Best time for Mekong cruise:
There are two main seasons in Mekong area. The dry season begins from around November and ends around April to May next year. The temperature during this time of the year is quite high at around 28°C. The rainy season is from May to October. Rain is dramatic but it does not last for too long, which makes the weather super humid. There is another flooding season in Vietnam around September to November when the river water level rises slowly. The locals have well adopted with this strange season while tourists consider it a unique thing of Mekong River delta in Vietnam.  Therefore, if the South of Vietnam is the main stop in your Mekong cruise, come and join a tour in the strange flooding season.
To-eat list:
-Tropical fruits with super reasonable price, for example, Vinh Kim star apples, tangerine Cai Be, Vinh Long grapefruit, Cai Mon durian, Hoa Loc mangoes, Hau Giang oranges…
-Sweet food from coconut like coconut candy, steamed coconut rice in Ben Tre
-Pia Cake with durian flavor
-Hu Tieu: the main ingredients of Hu Tieu My Tho are meat, pig's intestine, pig liver, sliced barbecue pork, dried shrimp, noodles and flavorful broth
-Banh Bo: tiny rice flour and tapioca cakes sweet potato, sweet onions and mint.
Mekong river seems to have built a strong connection among the nations it runs through. To really understand that connection and the vibrant Mekong culture, there is no better way than the best Mekong cruise. However, it is never easy to pick up a Mekong tour that matches your situation. That is the reason why travel expert team of Exotic Voyages are formed. Connect to us to find yourself the best trip!