Thailand has hundreds of islands lying along two coastlines. With white-sand bays, karst formations emerging from the water, turquoise seas, colorful coral reefs, and beautiful sunset, Thailand beats any country in Southeast Asia to be a honeymoon paradise for every beach lover.  
But beaches aren't all this country can offer for a couple. Thailand also has a few of reputational elephant sanctuaries and numerous of luxury resorts. It is also called the heaven of street food. That means you will never get bored no matter how long your honeymoon trip in Thailand is.
1. Bangkok
Every visit to Thailand is incomplete without Bangkok. In 2017, this city was voted as the second most-visited city in the world. The capital of Thailand changes in every corner of its streets. From its network of narrow canals, colorful floating markets, sparking temples, vibrant nightlife to busy street food stalls and fancy nightclubs, there are so many places for couples to discover and romantic things to do in honeymoon.
The best way to have the first glimpse of Bangkok is sailing to Chao Phraya River on a private long-tail boat, on which you can easily stop at any place along the river. It could be a solemn temple, the flower market Pak Khlong Talat where you can buy a bunch of 50 beautiful roses with only $1.60 or the charming Thompson House. Hopping on a tuk-tuk is also a great way to get around. The local driver will take you to get around the bustling Chinatown, go shopping at Chatuchak market and floating markets, or spend your whole day walking hand in hand with your loved-one to visit Wat Pho and Wat Arun. Don't forget to grab some amazing Thai street foods which became more famous than ever when Raan Jay Fai – one of Bangkok's "street food" restaurants where diners sit at plastic tables by the side of a road- was awarded a Michelin star in 2017. When the dark falls down, it's time to soak the Bangkok nightlife from the rooftop bar of luxury Banyan Tree Hotel. From the 61st floor, having a dinner in the twinkling light of the city is all about romance.
There are so many romantic things to do in the capital of Thailand for couples
For a couple who are looking for an intimate affection, the Sala Rattanakosin Hotel is a perfect choice. It locates along the riverside, near famous sites of the city. That means, from your luxurious and cozy room, Wat Arun and the Chao Phraya River are within your sight.
2. Chiang Mai
It's always a never-ending debate between Bangkok supporters vs. Chiang Mai supporters to choose the best city of Thailand. But to first visitors, Chiang Mai can seem a little overwhelming with all of its elephant camps, mountains, magnificent Buddhist temples, and Lana ruins.
The countless remarkable temples in Chiang Mai are enough for you to make a temple hopping. From the most famous Doi Suthep where enshrines a piece of Buddha's shoulder bone to Silver Temple with its impressive handcrafted silver decoration, it takes your whole life to visit all of them. Chiang Mai is also one of the best places to take a cooking class which you will learn to cook some mouth-watering Thai food to delight your beloved in your family life. A couple massage is another must-try activity. Local medical herbs and traditional Lana massage treatment will help to pamper your bodies and caress your minds. Make sure to spend time to interact with the elephant – a precious treasure of this area. These beautiful creatures have been abused from tourism, logging, and human invasion of elephant habitats. Now you can soothe their pain by feeding or bathing them. When you learn to love unconditionally, you're learning the most important lesson of married life.
Join a cooking class to delight your beloved with some of the amazing Thai recipes 
3. Phuket
Phuket is the biggest attraction in Thailand. This island offers numerous of interesting experiences for couples from beautiful white sand beaches, national parks to vibrant dance clubs and an exhilarating nightlife. However, if you are looking for something more special than beautiful beaches, a day-party on Hype Luxury Cruise is a must-do.
Based on the concept of a beach club, Hype Luxury Cruise offers comfortable sun lounger daybeds and a spacious trampoline on the crystal water of Phuket. A wide selection of appetizing finger food, fine champagnes, and cocktails will satisfy your palate, as well. The DJs will keep your bodies moving and shaking when they spinning their tracks. It's not just memorable but unforgettable experience on your honeymoon.
4. Phang Nga Bay
Phang Nga Bay, in the Andaman sea, features a number of limestone cliffs which emerge vertically out of the water. With mangrove forests, beaches, caves, and lagoons, this stunning bay is the perfect background for couples. You can immerse yourselves in the legendary Ao Phang Nga National Park, snorkeling at Khai Island, paddle the lagoons and caves of Hong and Panak Islands, bamboo raft down the stream in Khao Lak but never miss the Phang Nga Bay stunning sunset.
If you've ever asked yourself why a sunset is considered romantic, you'll find your answer here. Sailing an idyllic cruise over through the spectacular scenery of the bay is the best way to admire the sunset. With arms around your beloved, you will watch the sun rays radiating their red-orange glow over the towering limestone cliffs. An impressive moment that is not easy to meet twice in life.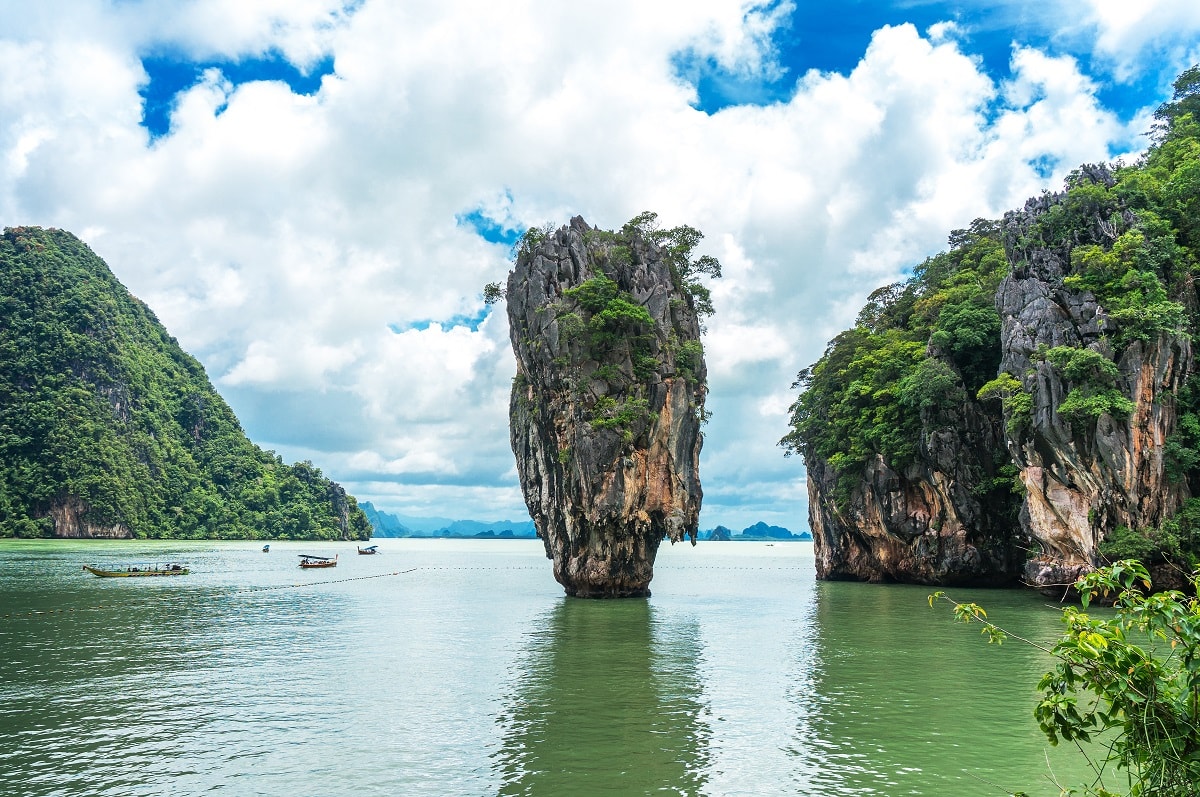 Phang Nga Bay is the perfect place for couples with mangrove forests, beaches, caves, and lagoons. 
5. Khao Lak
While there are many interesting activities in Khao Lak such as sunbathing on the idyllic beach, exploring the wildlife in Lam Ru National Park, visiting temples, experiencing delightful markets but nothing like spending a night at the Sarojin beach resort.
This Sarojin in Khao Lak has all sorts of romantic features: A seven miles stretch of private beach, white sand, romantic sunset views, and double day-bed. What makes your staying unforgettable is a romantic dining in the jungle among the light of hundreds of candles. The Sarojin team will lead you to the jungle till you see a waterfall where a private table is set specially for you and your spouse. On the glittering light of candles, this moment likes a lifetime dream come true.
Have you ever dreamed of dining among hundreds of candles?
5. Koh Yao Noi
Koh Yao Noi island is in the Andaman Sea, halfway between Phuket and Krabi. It's characterized by sandy shores, mangroves, rubber plantations, fishing villages, secluded beaches, and long-tail boats. But the most beautiful secret of the island is hidden deeply in the ancient jungle: a treehouse villa at Koh Yao Noi Luxury Resort. Surrounded by beautiful nature, the treehouse shows a deep appreciation of the environment and the villa's desire to contribute to a sustainable future. Here, you'll find a private space for two with a personal bar, double swing, and a plunge pool. You can relax on the daybed to read a book, sway on the swing, or spend the night outdoors on the deck to enjoy the stars twinkling overhead before having a dreamy night on the arms of your beloved.
6. Koh Tao
Thanks to its 2,012 miles of coastline length, Thailand has a countless of islands and clear water which provides great conditions for diving and snorkeling. But the most popular place by far is Koh Tao, with its abundant dive sites – a perfect place for an adventurous honeymoon.
A flight to Koh Samui then a ferry to Koh Tao is the quickest and easiest way to get to this island.  The life here is bustling, the island is beautiful, the weather temperature is about 29 degrees all year round, so you and your spouse would be treated to true paradise. Here, you will find a key to open the door to the whole new world under the Koh Tao water. Together, you will venture out its diversified marine life to see how beautiful and magical it is. We are sure that you'll fall in love with this wonderful land at your first sight – and fall in love all over again with each other.
Open the door to the whole new world under the water of Koh Tao
7. Koh Samui
This is the second largest island, lies in the Gulf of Thailand off the east coast of the Kra Isthmus – a perfect place if you want to escape from the tourist crowd. Koh Samui is well-known for it vibrant coral sand, the variety of marine species, and alluring beaches. There is no time for couples to be boring. Both of you can either lay on white sandy, palm-fringed beaches, dive into the ocean, watch a tiger show, hideaway at the secret Buddha garden, join a yoga retreat, hop to a bar, taste a Koh Samui food, and of course, get a couple massage at one of the luxury resorts and spas on the islands.
Let's escape like no other at Away Spa in 5-star Koh Samui W Retreat Resort. This extravagant spa offers rooms for couples. Each room blends with vivid color, inspiring scents, cozy light and imaginative sound. A few hours of relaxing massage with aromatic oil will help you to relax and enjoy each other again with the same massage. In the end, you will be ready for a romantic night after.
A few hours of relaxing massage with aromatic oil will help you to relax and enjoy each other again with the same massage.