Nowadays, the environment becomes a hot issue all over the world and a concern for all industries including tourism. Sophisticated consumers increasingly demand not only luxury experiences but also want to help the environment by being green and eco-friendly. Fortunately, eco-tourism is now being practiced by some of the most luxurious resorts and hotels in Southeast Asia. From a 5-star resort located on the beachfront to an amazing hideaway on the hilltop, whatever you choose, you have "a green choice" for your stay. Now, let's explore Top Eco-Friendly Resorts in Southeast Asia right below!
Situated in northwest Phuket, far from island's main city, Trisara offers such a quiet and tranquil environment that spreads across 40 acres of fragrant tropical gardens. Stepping into Trisara Resort, it doesn't take a moment to realize why this Thai property's name in Sanskrit means the "Garden in the Third Heaven."
As a member of the Keep Phuket Clean campaign, Trisara catches rainwater for use in gardens and rooms, uses air-conditioning energy to heat water in villas and avoids chemical treatments for its saltwater pools. Furthermore, the resort's glass water bottles of the old swing cap variety are environmentally-friendly. Guests rave about the locally-made jojoba lotion, and about the fine intrecciato-weave beach tote in the room that is meant as a gift.
137 Pillars House is one of the eco-friendly properties that don't sacrifice sustainability for luxury in Thailand.  
This boutique eco-resort teams up with WarmHeart Environment to create charcoal from its organic waste and it finds innovative, chemical-free ways to eliminate toxins from its rooms and gardens. Additionally, 137 Pillars House also uses intelligent air-conditioning systems that automatically turn off the units when the doors to the huge balconies are open. Paper, cardboard, glass, plastic and aluminium is separated, and either repurposed in some way or sold for recycling.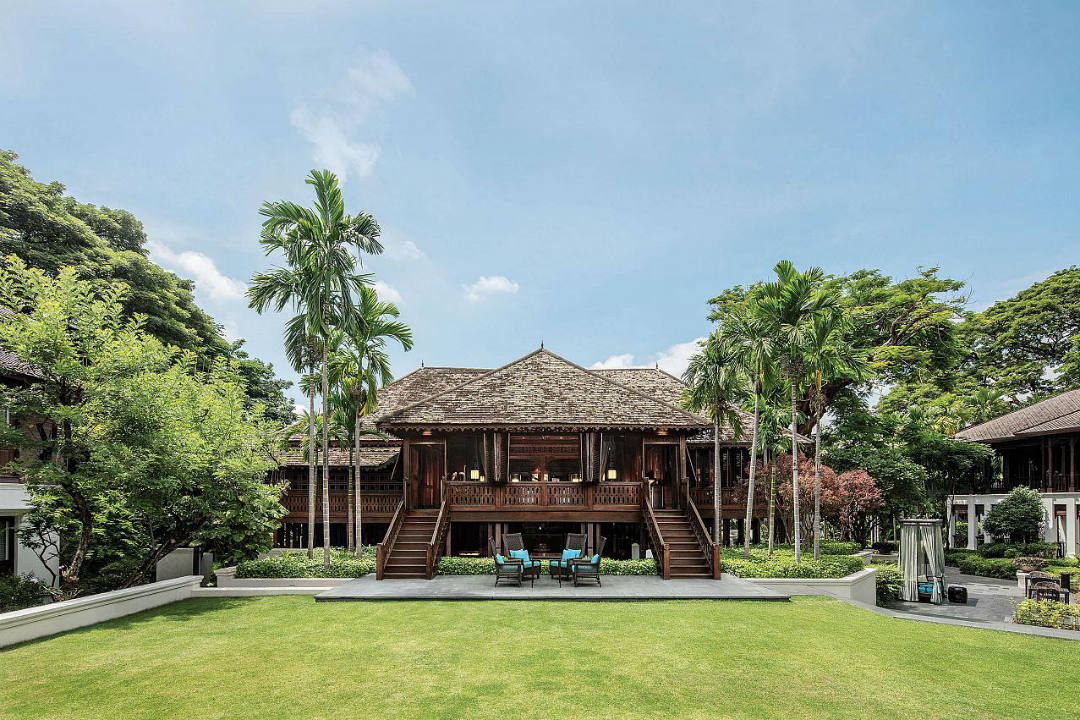 "Our next objective is to eliminate individual plastic shampoo, conditioner and lotion containers. We need to find an option that ticks all the boxes, and that can take time," said Ms Anne Arrowsmith, General Manager of 137 Pillars House Chiang Mai.
"Passionate about supporting and protecting the environment, its commitment to sustainability has been recognized by National Geographic Traveler."
The Six Senses resort, in Vietnam's Con Dao Island, is where eco meets luxury. Emerging from sand dunes, the resort's suites, villas and restaurants are supported with sustainable timber frames and operate at low energy and conservation levels. The award-winning project, designed by Reda Amalou and AW² Architecture, has been benchmarked by green World Tourism Organization, Green Globe 21.
It has partnered with the nearby national park to protect and advance a severely damaged coral reef system—a move great for the environment and for guests who want to enjoy it and help. They also operate a sanctuary for turtles to lay eggs and supports a pre-kindergarten program, and a filtration system provides clean water for students.
Located on a hill within the heritage zone of Luang Prabang, Belmond La Residence Phou Vao is one of the most established and comfortable hotels in Laos. This beautiful and romantic hotel is a strong supporter of sustainable tourism in Laos: from donations to the local orphanage to environmental protection initiatives in Luang Prabang.
Belmond La Residence Phou Vao has a large, infinity edge swimming pool and the restaurant offers excellent Laotian and international cuisine. The adjacent terrace has spectacular views over rice paddies and the mountains and the spa pavilions set in tranquil gardens are hard to resist. As well as being environmentally conscious, the hotel is also a strong supporter of local charities and has a number of initiatives in place to help the local community.
High on a hilltop outside Sapa in Vietnam's north, Topas Ecolodge has been listed No. 1 on a list of "21 Places to Stay if You Care About the Planet" by National Geographic. "Sustainable, spectacular and engaged with local communities, these lodges are tucked into some of the planet's wildest places," it commented. "Topas Ecolodge is an amazing mountain hideaway."
"Sustainability has been at the front of our minds since we conceived the Ecolodge. We have worked with DANIDA (Denmark's development cooperation, under the Ministry of Foreign Affairs) to make the lodge a showcase for sustainable tourism in remote areas." – Topas Ecolodge.
This resort works hard on saving electricity, water usage, and reducing wastes. Besides, they often host activities with local people to let travellers explore the culture and nature of Sapa. At Topas Ecolodge, they keep electricity use at the lodge to a bare minimum and ask all their guests to help them with this. Especially, they try to reuse as much of their waste as possible as they have invested in a glass crushing machine which crushes glass bottles into fine sand which can later be used for concrete in construction and maintenance. 
Topas Ecolodge recently opened a constructed wetland to treat the wastewater from the kitchen and laundry before it enters the rice fields. Through massive sand and plant filters, the wastewater is purified in a biological process which ensures the wastewater generated at Topas Ecolodge does not impact the local environment in a damaging way. By using plant and sand filtration unnatural algae growth is avoided in the local ecosystem. Furthermore, the wastewater from their bungalows is treated and purified through organic filtration systems in septic tanks.
Sheltered on the eastern shore of Inle Lake, beneath the blue mountains that range across the high Shan Planteau, Inle Princess is your hidden refuge in this long secluded region and still then one of the first hotels on the lake. It always does its best to protect the environment here with sustainable practices. 
Saving energy is an attempt of the property to help the environment. They use energy saving bulbs for the whole place, traditional ventilation methods, palm leaf insulation. High ceilings are also used in construction for zero energy cooling. In addition, rice husks and other kitchen by-products are used to fuel kitchen fires.
About their waste management, Wastewater is treated on site with biofilters and natural cleansing through a water plant system, then fed to irrigation. They produce drinking water and implement no-plastic policy on in-room bottles. Bio-degradable cleaning chemicals and automated filling used for their laundry. "No bleach" ethos and naturally dyed cotton are used for napkins, tablecloths, kimonos and laundry bags. Organic pesticides and compost are made on site. Rechargeable batteries are used where needed.