Thanks to the annual monsoon season, many of the waterfalls in Vietnam are powerful, majestic but still romantic yet.
With highlands occupying ¾ the whole territory, Vietnam is a home of numerous magnificent waterfalls – a paradise for people who are looking for adventure trips. Most of them are surrounding by jungles which are unspoiled.
Let's note down 7 most beautiful waterfalls below to prepare for your next trip to Vietnam.
1. BAN GIOC WATERFALL – CAO BANG
The first thought comes to your mind is just "Amazing!" when you see Ban Gioc waterfall. Located in the North of the country, this is one of the biggest cross-border waterfalls in the world such as Iguazu and Niagara and no less famous than the two names by beauty and majesty.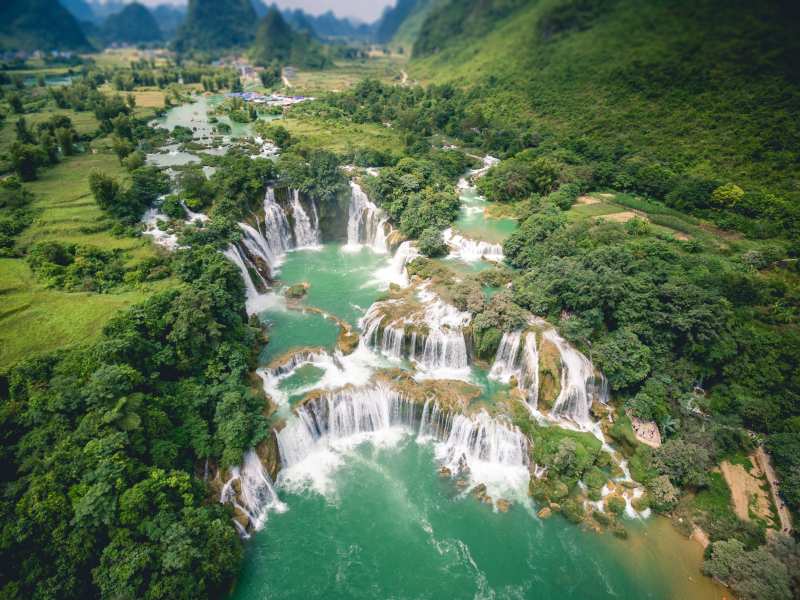 Over 200 meters wide and a drop of more than 70 meters, Ban Gioc Waterfall offers a stunning site of 3 layers of cliffs among a picturesque, rich green background. The breathtaking sight of this waterfall bares a graceful, fresh beauty of water, the pure green of the forest, pristine and unique beauty of the ethnic villages. To experience more, you can even jump into a large natural pool near there to swim, but make sure not to get close to the main waterfall.
MORE INFORMATION:
Location: Trung Khanh, Cao Bang Province
Distance: 370 km from Hanoi city
How to access: Bus, Motorbike
Traveller type: Family, Friend, Solo, Couple
Recommended tour: Hanoi – Ba Be lake – Ban Gioc
2. PONGOUR WATERFALL – DA LAT
This breathtaking waterfall plunges down from mountains form 40 meters high, spreading over more than 100 meters of 7 rock levels. When visitors witness the mighty Pongour, they are also amazed by the hundreds of vivid wildflowers covering poetic paths leading to the isolated waterfall.
Layers upon layers of waters pouring down create white foam and magical cool foggy. No wonder why many said that the waterfall is one of the most romantic settings in the world. You can visit Pongour in the dry season to see the clearest water or in the rainy season for its most magnificent sight.
Pongour waterfall is not enough for a day tour? You can explore more about Da Lat with your own choice of destinations, we are here for help.
MORE INFORMATION:
Location: Duc Trong, Lam Dong Province
Distance: 50 km from Da Lat city
How to access: Bus, Motorbike
Traveller type: Family, Friend, Solo, Couple
Recommended tour: Da Lat – Pongour waterfall – Prenn waterfall
3. THAC BAC – SAPA
Thac Bac, or Silver Waterfall, is located about 12km from the centre of Sa Pa town and can be reached by motorbike or private car in 30 minutes. The waterfall is formed by sources of water from the Lo Sui Tong mountain peak. On beautiful sunny days, lying at a height of 500 meters, overlooking Sapa valley, Thac Bac can be seen like a white dragon looking down from the sky.
Coming to Thac Bac, you will have a chance to sink into the mild weather and extravagant landscape of mountainous surroundings.
Trekking through Sapa Valley is something we offer, so if you're a serious walker, adventure seeker, and scenery enthusiast, this trip might just be the one for you. Not to mention the stunning Thac Bac waterfall you'll experience.
MORE INFORMATION:
Location: Lao Cai Province
Distance: 370 km from Da Lat city
How to access: Bus, Motobike, Train
Traveller type: Family, Friend, Solo, Couple
Recommended tour: Hanoi – Sapa – Hanoi
4. DRAY NUR WATERFALL – BUON ME THUAT, DAK LAK
Dray Nur or DrayNur is a majestic waterfall that mother of nature given to Dak Lak. It is 25 kilometres away from Buon Me Thuot is one of three waterfall system: Gia Long – Dray Nur – Dray Sap of Serepok River. Dray Nur means Wife – waterfall.
This waterfall is beautiful with 250 meters length, 30 meters in height and spread about 150 meters. But the most attractive thing is the 3,000-meter square cave hides behind the rumbling down waterfall. For those who seek for the thrill, this is the adventure that you might not want to miss.
A trip to Dak Lak with destinations such as waterfall cluster of Dray Nur – Dray Sap – Gia Long, Buon Me Thuot, Buon Don and Lak lake in March when the coffee flowers bloom whiten the hills and the annual elephant race festival starts in every village is worth considering.
MORE INFORMATION:
Location: Buon Me Thuot, Dak Lak Province
Distance: 25 km from Buon Me Thuot city
How to access: Bus, Motorbike
Traveller type: Family, Friend, Solo, Couple
Recommended tour: Buon Me Thuat – Lak lake – Buon Don – Dray Nur waterfall
5. YANG BAY WATERFALL – NHA TRANG
Only 45 kilometres from Nha Trang is Yang Bay, a waterfall tucked in the heart of forest and mountain ranges from the height of 100 meters to sea level. It has another name is "Ranlay" means "Heaven's waterfall" due to its beauty and a legend came from a love story of a fairy with a poor local man. The unusual thing is, Yang Bay is combined from 2 waterfalls: one is cold water and the other is hot so you can see white watering pouring down one side and the other side is dimming by vapour like millions of dust.
At the foot of the fall, there are many lakes with clear water where you can swim in the golden sunlight shimmering on the surface of the water, creating a romantic setting likes somewhere else in the heaven.
A visit to Yang Bay waterfall would make your Nha Trang tour becomes more interesting. Don't hesitate to contact us for advice if you want to know more about the trip.
MORE INFORMATION:
Location: Khanh Vinh, Khanh Hoa Province
Distance: 45 km from Nha Trang city
How to access: Bus, Motorbike
Traveller type: Family, Friend, Solo, Couple
Recommended tour: Nha Trang – Binh Ba island – Yang Bay waterfall
6. GIANG DIEN WATERFALL – DONG NAI PROVINCE
Photo: NguyenTrung
Located in the Southern city Dong Nai, far from 50km outside of Ho Chi Minh city and easy to approach, Giang Dien is the meeting of 3 waterfalls: Chang, Nang and Giang Dien. According to the local elders, once upon a time, there was a woman and a man fell in love but their parents didn't allow them to get married. They decided to sacrifice their lives for love and the waterfalls where they jumped down then were named Chang (He) and Nang (She) to remind people of their love story.
This spectacular waterfall is surrounding by green valley, hills, forests and it offers an eco-tourism system for visitors to relax and explore. It is still a new visitation site for foreign travellers.
MORE INFORMATION:
Location: Trang Bom, Dong Nai Province
Distance: 50 km from Ho Chi Minh city
How to access: Bus, Motorbike
Traveller type: Family, Friend, Solo, Couple
Recommended tour: Ho Chi Minh city – Giang Dien – Mui Ne
7. THAC MAY – THANH HOA PROVINCE
Photo: minhchau8845
It is strange that Thac May (or Cloud waterfall), with its beauty and romance, is still a less-known destination for foreign travellers. This waterfall has another name: "Nine steps of Love" from the legend of 9 fairies leaving their footsteps after returning to the Heaven. Thac May is mysterious, magnificent and untouched travel spot for adventurers and couples who want to explore more about Vietnam. The best time to visit is from August onwards with sunny days, allow you to see its blue water and hear it murmurs through the quiet night.
But if you go earlier in May or June, you shouldn't miss Pu Luong – home to the Muong and Thai ethnic groups, just a drive of 70 kilometres from Thac May and you will have a chance to admire the wonderful picture of Pu Luong terraces in a new rice season. Pu Luong – Thac May – Thac Huou is an impressive tour of Thanh Hoa Province.
MORE INFORMATION:
Location:  Thach Thanh, Thanh Hoa Province
Distance: 100 km from Hanoi city
How to access: Bus, Motorbike
Traveller type: Family, Friend, Solo, Couple
Recommended tour: Hanoi – May waterfall – Voi waterfall – Hanoi
Save this post via Pinterest: