You have bought your wedding customs, prepared your touching marriage vows, and practiced a dance hundred of times, so it is time to say 'I do' to the special honeymoon trends created by Exotic Voyages experts. Forget about popular destinations, and start thinking about something exotic and unforgettable, something that would bring both of you a happy smile when memorizing. Let's say somewhere far away, somewhere can give you a wide range of options such as deserted beaches, swaying palms, abundant wildlife with fine dishes and vibrant cultures; somewhere like amazing Southeast Asia!
Still wondering about this destination? Here are reasons why you should choose Southeast Asia for your honeymoon.
Home to the most luxurious resorts in the world
Forget about Hawaii and the islands of Caribbean, Southeast Asia is home to incredible world-class resort islands. Once you visit beautiful Thailand, Vietnam, or Indonesia you will be overwhelmed by water bungalows with open access the tropical ocean and forests, or beachfront villas overlooking private pools and pristine beaches which are even beautiful than well-known places for a honeymoon that you have heard about thousand times. Interestingly, they are specially designed by talented architects to be a 'just for two' space.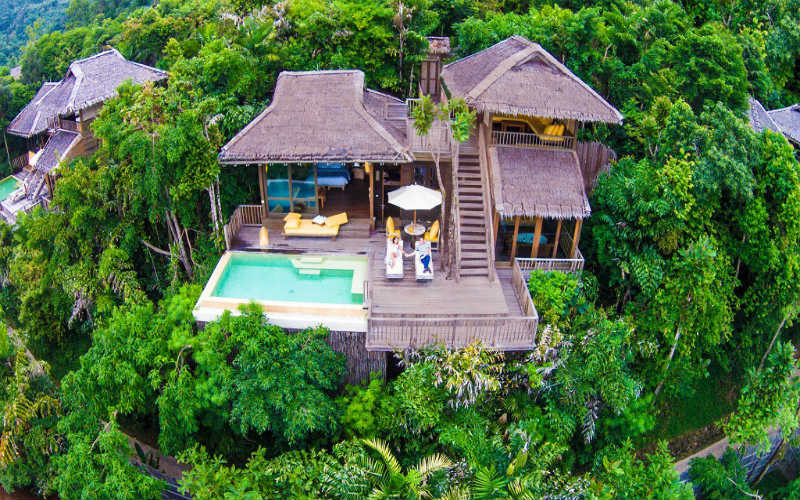 Photo: Six Senses Yao Noi
Once you step into the Ocean Panorama Pool Villa at Six Senses Yao Noi, there is no way to go back. Built from the natural materials, this place completely harmonizes with the lush tropical forest facing a full view of the Andaman Sea. What could be more romantic than lying on the private daybed, feeling the soft breezes rustle your hair, sipping cool lemonade, holding each other's hands, and admire the spectacular sunset?
Photo: Fusion Maia Danang
As one of the most unique, forward-thinking, and individually oriented hotels and resorts in Vietnam, everyone, of course, including you and your newly-married spouse, will get allured by this luxury accommodation – Fusion Maia Danang. It is hard to say that its beach villas are not a great choice for your perfect honeymoon. Like your dream home, enjoy stunning views of a large crystal clear private pool looking onto the sun-drenched beach. The Elegant lounge and opening dining room feature a fabulously stylish design to embrace an intimate dining experience.
Photo: Novotel Lombok
The secluded Sasak villa at Novotel Lombok Hotels & Resorts in Indonesia is an ideal place that you can be truly yourself. With a tranquil and inviting ambiance, make yourself relax on the terrace, and engage your darling partner in intimate conversation while completely immersed in the landscape gardening. Also, they make use of environmentally-friendly materials including coconut wood, pottery, rattan, and terrazzo to give the most exotic experience that only Southeast Asia can offer.
Underwater heaven
For beach lovers, and especially honeymooners, Southeast Asia is like a sheer heaven on earth because of beautiful golden beaches stretching for miles. They create a romantic atmosphere for you and your beloved one walking hand in hand, or simply lying on the beach, admire a view of the idyllic blue sky, an endless sea of blue, listen to gentle sounds of waves lapping the sand, and enjoy each other's company.
Mai Khao Beach, Thailand – perfect for long walks and enjoying natural wonders in a tranquil ambiance
Your journey to this tropical paradise could not be complete without taking part in interestingly recreational activities available on sites such as scuba diving in Phu Quoc island, snorkeling in Phuket, kayaking in Nha Trang, and swimming with tropical fishes at Koh Hong, Krabi to explore the spectacular and exclusive marine life. Try and savor the most memorable moments in your life!
Find the hidden beauty but still have complete privacy, kayaking is a must-try experience for newly-married couples
Fine dining with romance in the air
On the world food map, Asia, in general, and Southeast Asia, in particular, are always proud of securing high positions, even it is street foods or fine dishes at fancy restaurants. Undoubtedly, you will be strongly attracted by the vibrant, colorful, flavorful and diverse dishes – a combination of local and international cuisine that keep you mouthwatering when thinking about.
But it is not enough! Actually, the blend of excellent dishes, fine wines, and perfect, unique scenery is what really makes Southeast Asia a standout. No matter where you want to dine, this paradise will offer you the most romantic and exquisite dining experience to celebrate your passionate love.
Photo: Banyan Tree
Say a temporary goodbye to pristine beaches, you can head to Bangkok to enjoy the city life yet romantic. Dining out at Vertigo Grill and Moon Bar, which is located on the rooftop of Banyan Tree Hotel will be certain your rewarding moment. Find a 'just for two' corner and take the whole city in your hands showing mutual love with candlelight and melodious music.
Sofitel Legend Metropole Hanoi could be a pleasant surprise in your honeymoon when visiting Vietnam. Delight your spouse with a cozy and lavish setting by having a candlelit dinner at La Terrasse du Metropole. With open terraces overlooking boulevards of Hanoi, immerse yourself into the ancient Hanoi, drink champagne, and watch passers-by together.
Have you ever thought about dining in the cave with the warm light of tiny candles? This might be your once-in-a-lifetime experience to mark your relationship at Six Senses Ninh Van Bay. The Cave is an exotic hillside rock cavern – a unique setting for a romantic dinner as the cozy atmosphere set the sweet tone for this special celebration.
Thanks to superb options of dining locations, restaurants at The Sarojin are always one of the top romantic spots for honeymooners in Asia. Apart from the stunning contemporary Mediterranean and Thai cuisine with finest wines, the beach bar will give you spectacular views of the tropical ocean – an ideal spot to sip cool cocktails. For an ultimate dining experience, ask for a private setting which can be at your private sala, by the candlelit waterfall, or on the white sand beach.
Dining on The Rocks, Six Senses Koh Samui
It would be a big loss if you skip a lively rendezvous at Dining on the Rocks at Koh Samui, Thailand. This restaurant is fantastically situated on the rocks with phenomenal views over Koh Phangan and the Gulf of Thailand. Come, sample the fusion food, and watch the stunning sunset to see the endless blue skyline turn into brick red, and then deep purple.
Beautiful landscapes
Southeast Asia is also home to magnificent jungles, caves, rocky and beautiful landscapes, particularly Vietnam. If you are planning to embark on a romantic and fantasy adventure, this area is a perfectly considerable destination.
Ba Be Lake is like a hidden gem among the infinite mountain ranges of northern Vietnam. Although it is a 450-million-year old terrain, the water always reflects a nice color of transparent green harmonizing with surrounding trees and majestic mountains. When you come here, take a leisurely cruise along the lake to admire the tranquil ambiance as well as listening to the sounds of water falling. So do not hesitate to make a trip to Ba Be Lake to immerse yourselves in this wonderland like a charming prince and princess.

Sapa is well-known for its rice terraces, probably it is one of the most breathtaking sceneries in Vietnam and even Asia. A trekking crossing the fields and mountains should be an undoubted highlight of your honeymoon in Vietnam. Hand in hand walking between the roads between paddy fields, watching water buffaloes work in the fields, visiting the ethnic minority villages, and enjoy the superb scenery will be an experience that you and your spouse never forget.
With over 2,000 karst limestone mountain islands, there is no surprise that Halong Bay – the UNESCO World Heritage site is one of the top destinations for couples. Take a trip on a luxury cruise, your mind will be blown away by the charming bay, especially when leaning back to your darling partner, watching the sunset in the late afternoon. Otherwise, do not miss kayaking to see the clear blue water, and calming tides once passing through thousands of islands, or undertake a tour on a plane taking you guys up to 3,000 meters above the sea level. All the tropical islands, sculpted valleys and fine mountains will appear in your eyes.
A shaft of sunlight hits a section of the cave, called Watch Out for Dinosaurs 
Happiness is not the destination, but the journey to the destination. Spending your honeymoon trip in the Central of Vietnam to explore the world largest cave – Son Doong Cave in Quang Binh province, why not? This Wonder of Vietnam has a primeval forest with plentiful flora and, of course, no sign of human trace making this place like the Garden of Eden. Inside the cave, there is a shimmering blue river runs through and a superb sight is 'a jungle flourishing under shafts of sunlight in stretches where the ceiling fell in long ago' (Malanowski).
A religiously diverse region
It is always exciting to explore a new country with a completely new culture as there are lots of things awaiting you to open, especially somewhere like Southeast Asia. With so many active religions throughout the area due to a rich history of civilizations, the land is one of the most religiously diverse regions in the world. While Hinduism is the earliest practiced religion, Buddhism can be considered as the most influential and still remains prominent in many countries. The other 2 major religions found here are Islam and Christianity.  
The sheer beauty of the ancient Bagan city in Myanmar is worth experiencing. The 42-square kilometer place is home to over 2,000 preserved temples and pagodas which are comparable to the 2 famous Angkor Wat of Cambodia and Borobudur Temple of Indonesia. Located on the left riverside of Ayeyarwady River, the remnants of these pagodas are a symbol of Mon architecture that might disappear. When reaching this city, travel by a big balloon to admire the full romantic scenes of mysterious temples which makes you feel like returning to the ancient past in which each of those buildings marks a historical era with traditional culture.
Envisioned by King Taksin in 1768, the temple was later renovated and renamed as Wat Chaeng, commonly known as Wat Arun – the Temple of the Dawn. Ideally located on the bank of Chao Phraya River, it is one of the most stunning and unique temples in Bangkok, Thailand thanks to the architecture and the fine craftsmanship. Having an imposing spire over 70 meters high, Wat Arun is gorgeously decorated small pieces of colored glass and Chinese porcelain placed into the intricate patterns making it stunning when lit up at night. Climb the central prang, and when reaching the highest point, embrace your darling partner to see the winding Chao Phraya River, Wat Pho, and the Grand Palace.
Pura Luhur Uluwatu or Uluwatu Temple is one of six key temples in Bali that is famous for its location – perched on the top of the cliff about 70 meters above the sea level. The temple is believed to be a spiritual pillar that is a place of worship of Siva Rudra and dedicated to protecting this island from the evil sea spirits. Also, this temple shares a splendid sunset backdrop overlooking the beautiful Indian Ocean. There is no doubt that this background is just perfect for a romantic dinner and enjoy Kecak dance performance telling a story of King Rama and his rescue of Princess Sita. Traditionally-designed gateways, ancient sculptures, and Balinese architecture bring you the greatest time-travel romance.
Rising from one wooden pillar in the center of an elegant lotus pond, the One Pillar Pagoda is one of the most iconic temples in Vietnam. Built during the reign of Emperor Ly Thai Tong (between the years of 1028 and 1054), it has been always mentioned as a symbol for Hanoi, and a revered site. Inside this tiny 3-square meter pagoda, the shrine is dedicated to the Vietnamese Buddhist Deity Quan Am with her effigy.
Miag-ao Church in the Philippines, also known as the Santo Tomas de Villanueva Parish Church, was called the Miag-ao Fortress Church since the two bell towers served as a location for the town's defense against Muslim raids. This is also one of the Baroque Churches in this country recognized by UNESCO  as a World Heritage Site. You will be impressed by the original late 1790s image of Saint Thomas of Vilanova and the limestone image of the Birhen ng Barangay, the traditional Filipino clothing.
Hospitable locals
Beaming smiles and warm welcome feeling will come to you as a lovely surprise once you visit Southeast Asia. The beautiful natural sceneries like Halong Bay or iconic cultural landmarks like Angkor Wat is not the only factor that makes this region absolute heaven. No matter where you go, even regional markets or luxury resorts, locals always give you unrivaled services with overwhelming friendliness.
To travel like a local and enhance your journey with maximum enjoyment, it will be great if you know a bit about their traditions. For example, why don't you learn about the meeting and greeting in Thai culture? When greeting someone or being introduced, men say 'Sawatdee-krap' and women say 'Sawatdee-kah' with a 'wai'. Wai means a person positions the palm of his or her hands, with fingers extended at chest level close to the body and bows slightly. Remember that the higher your hands are placed, the more respect is shown.
Meanwhile, Laotians greet others by pressing the palms together in a kind of prayer gesture known as a 'nop'. The general greeting is 'sabai di' – good health, invariably said with a pleasant smile. In case you attempt a nop, keep in mind that is basically reserved for social greetings, so do not greet a restaurant or hotel employee like that.
With the sheer beauty of nature, unique wildlife, great locals and different cultures, Southeast Asia beats any regions in this world to be the top destination for your honeymoon. If you want a stress-free honeymoon, CONTACT US and enjoy the enthusiastic support of 15-year-experienced experts!
Save this post for later read: