Vietnam is always a strong magnet that attracts enthusiasts of pristine nature, authentic culture, rich history and urban life. Since the government opened the door for tourism, boutique and luxury hotels have been growing quickly, especially secluded beach resorts due to the coastline sweep in a 3,000 km S-shape. So if you want to explore the beauty of peaceful and untouched beaches, undulating hills, and lush jungle, here are top 10 exotic beach resorts in Vietnam for this summer.  
Fusion Maia Danang
Photo credit: Fusion Maia Danang
As one of the most unique five-star beachfront resort in Vietnam, Fusion Maia Da Nang, with a simple design, dedicates itself to the harmony between healthy living and indulging luxuries. All villas are designed with an open plan living room giving you immediate access to a private pool.
Photo credit: Fusion Maia Danang
Inspired by the ancient town – Hoi An, Fusion Café Hoi An will bring you alluring creative spring roll flavours, Asian-inspired soda pops, or a tasty homemade pastry with coffee in the charming old town.
Photo credit: Fusion Maia Danang
With a fusion of travelling and relaxation, Fusion Maia Spa gives you the freedom to rejuvenate at your leisure. Nestled in the tropical gardens by an outdoor swimming pool, the Spa is an ideal spot for you to unwind before a therapeutic treatment.
To discover the hidden charm of Da Nang, check our Complete Vietnam
An Lam Retreat Ninh Van Bay
Photo credit: An Lam Retreat Ninh Van Bay
As a secluded destination for adults, couples, and honeymooners, An Lam Retreat Ninh Van Bay is set on an unspoiled jungle island surrounded by natural stream and palm-fringed beach. Thus, you can immensely enjoy personal comfort, and rejuvenation to escape hustle and bustle of city life.
Photo credit: An Lam Retreat Ninh Van Bay
Not just a perfect location for tranquillity and relaxation, there are plenty of tailor-made activities for you to discover the marine life and sea sports in Vietnam. Numerous islands surrounding the beautiful Ninh Van Bay bring you excellent opportunities to have unforgettable boat trips, fishing, snorkelling, and scuba diving.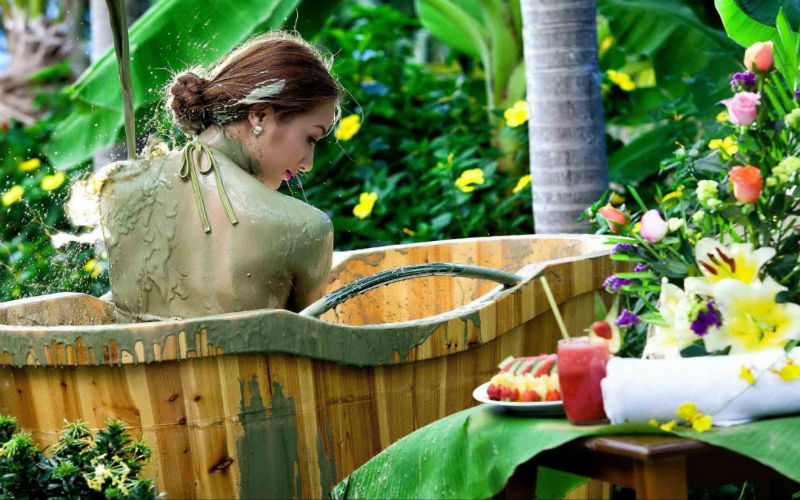 Photo credit: Kkday
Visiting iconic sites is great, but you will regret it if you do not try hot springs and mud baths. Immerse yourself in a hot mineral mud pool, and let nature endow you with vitality.
Make your own epic adventure with our Recreating Top Gear's Glory Days
AVANI Quy Nhon
Photo credit: AVANI Quy Nhon
What is your dream spot for this summer holiday? Close your eyes to imagine you are relaxing on a private beach, topping up your tan, treating yourself to an afternoon in the spa, getting active with fun-filled activities, and welcome to AVANI Quy Nhon. With personal balconies, fresh coastal views in every room, you will feel that this place is a recipe for sea, sand, and sunsets.
Photo credit: AVANI Quy Nhon
It will be interesting to attend an engaging culinary journey of Vietnamese flavours at Bamboo Chopsticks Class. Come with your master chef instructor to hand-select the freshest ingredients, use informative theories, and apply traditional cooking equipment to savour your creations, learn new culinary skills, and create unforgettable moments.
It will be a big loss if you come to a city without understanding its early history. Hence, walk through Quy Nhon's past with a local expert who will take you on an up-close historic journey. Amazing carvings from 11th century Cham dynasty come highly recommended.  
Intercontinental Danang Peninsula Resort
Photo credit: Intercontinental Danang Penínula Resort
Situated on Son Tra Peninsula, Intercontinental Danang Sun Peninsula Resort is bound by breathtaking beauty: sun-drenched beach, lush garden, rainforest, and mountains. Designed by Bill Bensley, the architecture gains his high mark through romantic bedrooms, playful design, and fruit-salad colour scheme.
Photo credit: Intercontinental Danang Penínula Resort
The Suites are styled with Vietnamese inspired furnishings and delicate latticework. With private airport lounge and even lush daybeds, you can marvel at the last glow of the sunset over the sea from your private balcony while sipping a cooling al fresco drink.
Photo credit: Intercontinental Danang Penínula Resort
What a pity if you miss La Maison 1888 – one of the luxury restaurants at Intercontinental Danang to discover culinary artistry by the Michelin starred chef, Pierre Gagnaire. Aside from exquisite French dishes, the architecture and atmosphere will bring you back to the 19th century as it recreates a French colonial mansion with special antiques and chandeliers.
Want to begin your great exploration of golf, history, and culture in Central Vietnam, find out more about Southern and Central Vietnam Golf Trails
Six Senses Con Dao
Photo credit: Six Senses Con Dao
Con Dao archipelago, in the past, was known as a French penal colony, but now people mention Con Dao because of its sweeping beaches, crystal-clear water, and exceptional scuba diving. And an ideal place to stay and enjoy the remote yet accessible Con Dao islands is the elegantly crafted Six Senses Con Dao. The 5-star boutique hotel is contemporary in design presenting a traditional fishing village. Aside from glorious sea views, you can try excellent restaurants with top-notch dishes, whisper quiet spa, and exciting aquatic adventures.
Photo credit: Six Senses Con Dao
The 16 islands of this archipelago make up the majority of Con Dao Marine Park building an active sea life. If you are lucky, you will see green turtles come ashore to lay their eggs in May. No matter who you are – a complete novice or an experienced diver, Senses Diving bring you a full range of this activity to explore the stunning secluded island under the sea. It will be particularly interesting to take a night dive to see bamboo sharks, as well as other marine creatures hidden during the day.
Photo credit: Six Senses Con Dao
It would be a big loss if you do not take the Con Dao Historical and Prison tour. This is a once-in-a-lifetime opportunity to visit the monuments and the local museum dating back to the French colonial era while listening to the epic story.
To plan your trip, do not hesitate to CONTACT US!
Victoria Hoi An Beach Resort
Photo credit: Victoria Hoi An Beach Resort
Inspired by UNESCO World Heritage Site Ancient Town of Hoi An, Victoria Hoi An Beach Resort & Spa is blessed to have gorgeous beach properties to bring you summer fun as well as celebrate its surrounding. With the incorporation of Vietnamese, French, and Japanese elements, this resort has the unique atmosphere in Vietnam.
Photo credit: Victoria Hoi An Beach Resort
If you fancy a peaceful and romantic place, Faifo Bar would be a perfect choice. Come, take a cup of cocktail and relax by the nearby infinity pool overlooking pretty Cua Dai Beach while feeling gentle breezes caress your face. What an ideal spot to admire the spectacular sunset when the skyline turns into brick red, and then deep purple.
Photo credit: Victoria Hoi An Beach Resort
Sidecar trips are a very special activity at Victoria Hoi An. Take a classic sidecar to discover scenic rice fields, fish and shrimp farms, early fish market, or enjoy the stunning views of Hai Van Pass, Lang Co Beach, and Marble Mountain. Also, dozens of quaint boutiques are waiting for you in this pedestrian-friendly Ancient Town.
To visit this cultural and historic site, find out more about our Indochine Essence
Angsana Lang Co
Photo credit: Angsana Lang Co
If you are seeking an exotic resort for couples or family to spend your summer break in, why don't you try Angsana Lang Co? You and your spouse can dive yourself into a private plunge pool or a pretty balcony admiring amazing views of the endless sea. Interestingly, the double-storeyed loft offers you two bedrooms aside from unblocking magnificent sights of the forest-covered mountain.
Photo credit: Angsana Lang Co
One of the main reasons that make Angsana Lang Co an ultimate destination for lovebirds is its Intimate Proposal. Nothing could be more touching than a proposal is set under the stars on a private area on the beach or brought to ancient UNESCO sites, for example, Hue Imperial City, Hoi An ancient town, or My Son Sanctuary.
Photo credit: Angsana Lang Co
Also, there are a lot of exciting activities for family that you must not skip. A visit to a local fishing village will show you how to source for fresh seafood and learn to be a real fisherman. Bike exploration will take you to incredible rice fields amidst beautiful mountain scenery that is only seen in Central Vietnam.
Nam Nghi Resort – Phu Quoc
Photo credit: Nam Nghi Resort – Phu Quoc
Situated on the northwest of a stunningly beautiful island oasis, Phu Quoc, Nam Nghi Resort is a luxury retreat surrounded by picturesque beaches and unspoiled tropical jungle. Blending natural materials with contemporary Vietnamese design, Nam Nghi emphasizes tasteful, yet environmentally sustainable architecture.
Photo credit: Nam Nghi Resort – Phu Quoc
The exclusive Rock Club Island will bring you a relaxing and luxurious space to enjoy unique, and handcrafted cocktails in the elegant lounge while taking in the surrounding views at dawn before it turns into a vibrant nightlife.
Photo credit: Nam Nghi Resort – Phu Quoc
Nam Nghi also offers a special experience where you can watch the sun sink below the horizon and indulge in a glass of champagne with your lover from the privacy of your own boat. Imagine you are sitting on the deck, feeling the ocean breezes caress your face, and listening to the sounds of waves clapping the boat.
Create memorable and intimate moments with our Sweet Honeymoon in Vietnam
JW Mariott Phu Quoc
Photo credit: JW Mariott Phu Quoc
Set on pristine Emerald Bay, a hidden gem of Vietnam's south coast, JW Marriott Phu Quoc Emerald Bay Resort & Spa brings you a prime oceanfront location. As a quietly world-class luxury hotel, JW Marriott displays classical elegance to make you feel welcomed and free to be yourself.
Photo credit: JW Mariott Phu Quoc
With 5 restaurants and lounges, you can sample distinctively Vietnamese cuisine as well as international dishes with fantastic ocean views. No matter where you want to dine, in a private room or in a beachfront mansion, JW Marriott can satisfy your personal requirement to the highest standards.
Once you come here, take your time to visit Tay Ninh Holy See. You will have a chance to see a local sect of Buddhism founded in the early 20th century and observe the daily ceremony at the Cao Dai Temple called Tay Ninh Holy See. If you like to experience the real life of the Vietnamese guerrillas, head to Cu Chi Tunnels – one of the few remaining monuments of Vietnam war.
If you find it interesting, check our Idyllic Journey to Vietnam and Cambodia
Amanoi Ninh Thuan
Photo credit: Amanoi Ninh Thuan
Who does not love the uninterrupted horizon of blue? Staying at Amanoi Ninh Thuan, you will immediately fall in love with its private beach looking out to the peaceful and sheltered waters of Vinh Hy Bay. Combining contemporary elegance with Vietnamese architectural styles, its luxury Pavilions, Spa Houses, and Residences are ideally perched along a coastal ridge, but tucked into a valley to help you commune with nature.
Photo credit: Amanoi Ninh Thuan
For adventurers, you should not miss Nui Chua National Park to discover its vast variety of flora and fauna. Hiking and trekking could be tailored to your personal interests to take in fascinating rock formations, ancients trees, and finest views in this region.
Photo credit: Amanoi Ninh Thuan
Cycle to Thai An to visit a local village should be on your to-do list. Feel the breeze coming through your hair as pedalling along tracks of Thai An village to a beautiful setting for a well-deserved picnic lunch.
Start to design your trip to discover authentic Vietnam now!