Valorous remnants of Southeast Asia's bygone colonial era remain standing tall and proud, to this very day. Many of these monuments are more than a century old, having survived two World Wars, a host of both international and domestic turmoil over the years, yet have managed to maintain their 19th-century splendor in all its glory. Such historic hotels continue to attract a wreath of affluent travelers from across the globe, seeking to douse their senses in a side of rich history entangled in rich Southeast Asian culture during their visit. Here is our selection of the 9 most favored heritage hotels within the region of Southeast Asia!
Location: Bangkok, Thailand.
Built: 1908
A hidden gem settled along the banks of the Chao Praya River within Bangkok's most historical district, surrounded by a variety of flabbergasting cultural spectacles such as that of Wat Arun (the Temple of Dawn) and the magnificent Grand Palace.
This opulent residential retreat was masterminded by Prince Chakrabongse, for himself to spend time at while unoccupied by his royal duties. Today, the villas ownership resides with his granddaughter, who has partially refurbished the grounds, and transformed it into a highly unique boutique luxury hotel. The hotel premises remain imbued by the noble heritage of the Chakrabongse family, as is seen in the hotels' emphasis in historical Thai art, cuisine and culture.
While the hotel is situated within central Bangkok, a short distance from a plethora of interesting places to see and visit, the hotel itself is hidden away in a tropical garden, consisting of a sizeable swimming pool and its picturesque riverside terraces. The hotel is composed of three unique, modernesque rooms, and four awe-inspiring luxury suites.
Location: Hanoi, Vietnam.
Built: 1901
Considered as being a legendary historical site, and a national relic of Hanoi's French colonial heritage, the Hanoi Metropole has a long tradition of delivering opulent luxury. Catering to business and leisure travelers, the hotel has famously housed many celebrated public figures across the ages, such as authors, actors, Royal Family members and other venerates alike.
A beautiful symbiosis of French art and influence, mixed with elegant touches of Vietnamese culture and heritage. This grandeur luxury hotel comprises of 364 rooms and suites. The Metropole Wing has preserved its original 1920's colonial splendor, while the Opera Wing boasts a distinguished neoclassical whim.
Suites and rooms are kitted in rich decor, mahogany furnishings and hardwood floors, including a variety of ceramics, rice-paper wall lanterns and radiant Vietnamese silks. The Graham Greene suite, situated on the second floor of the Metropole Wing, fully encompasses what it would have felt like to have visited the hotel during the French colonial era. Other themed rooms include a romantic Charlie Chaplin room, and a Somerset Maugham suite, each of which have highly unique, and unparalleled grandeur atmospheres.
Location: Chiang Mai, Thailand.
Built: ~125 years ago
Situated in what is sometimes referred to as being the cultural capital of Thailand; Chiang Mai, the 137 Pillar House is just the historic luxury boutique hotel to tickle the fancy of any well heeled traveler. This old black teak wood house, enthralled in rich history, has bewildered much of the local community in Chiang Mai, one decade after another.
The main bungalow-styled structure among the stilted house complex, coined as being the Borneo House, served as the Headquarters for the Borneo Trading Company over 125 years ago. The 137 Pillar House was originally constructed by the son of Anna Leonowens, who was the English Tutor for the King of Siam. The hotels design lends itself to the traditional Thai Lanna style of housing, where the more pillars a house has, the higher the owners societal status is.
Despite most residents in Chiang Mai preferring to avoid this plot of land, for a variety of reasons, a buyer emerged in 2002. The new owner had immediately felt enamored by the nobility of the 137 Pillar House as soon as she had laid her eyes on it, despite knowing nothing about its history at that time.
With some help from a team of skillful architects and designers, the bungalow-like property has been beautifully refurbished into a world-class luxury boutique hotel. Themed suites are equipped with every imaginable modern-day convenience, with some suites offering private indoor swimming pools, tranquil verandas, Victorian-esque baths, indoor and outdoor gardens, and more, with all features retaining a great sense of the properties rich heritage.
Location: Yangon, Myanmar.
Built: 1901
As described by author James Murray in his 1911 'Handbook for Travelers in India, Burma and Ceylon', The Strand Hotel is "the finest hostelrv East of Suez". This remains as one of the most superior colonial landmarks within Southeast Asia. In recent efforts to restore the monumental hotel in 1989, then again during 2016, the exquisite splendor of the buildings architectural past has been preserved. Serving as a landmark of its own in Myanmar, with its three-stories of Victorian colonnaded walkways, a trove of 19th century architecture and furnishings, The Strand Hotel is truly riddled in colonial opulence.
Rooms at The Strand comprise of four distinct types of suites, the Superior, the Deluxe, the Executive and the Strand. Each room is fitted with cutting edge modernistic amenities from air-conditioning to satellite televisions, engulfed by colonial-esque high ceilings, spacious living rooms, dark teak flooring, hand-woven linen beddings, Egyptian cotton bathrobes and towels, and every other bespoke comfort you could possibly imagine. The Strand Hotel has a cafe and a bar, as well as a luxury-standard restaurant, not to mention a sizeable swimming pool, ideal for recuperating at after a long day of sightseeing.
Location: Luang Prabang, Lao PDR.
Built: 1904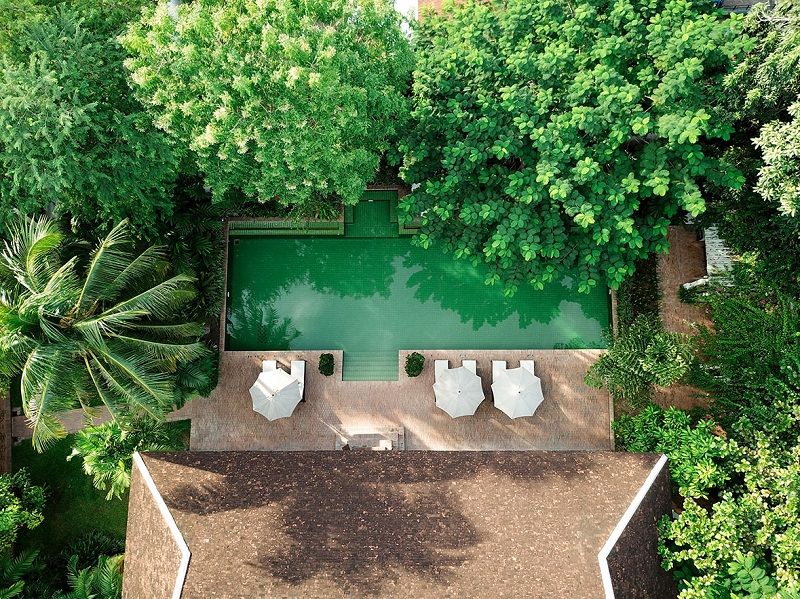 Constructed by the parents of the first President of the Lao People's Democratic Republic, Prince Souphanouvong, and used as their private residence during his childhood. Then, in 2002 the colonial-esque house was refurbished by Mrs. Lamphoune Varavongsa, and made into a hotel. Further expansions were then made in 2008, with the addition of six more colonial style buildings.
The Satri Houses architectural design was heavily influenced by Lao culture, and is set amongst a serene spot close to downtown Luang Prabang. Enjoy your own privacy within the garden area, or reside on an oversized Lao-style balcony and harmoniously observe the daily lives of local people passing you by.
As this is a luxury hotel, amenities are all very modern and up-to-date, this includes flat screen televisions, private air-conditioning, high-speed WiFi internet etcetera. The 28 rooms and 3 suites are fully equipped with beautifully crafted wooden furniture, bathtubs, separate bathrooms, and the facilities of this fabulous hotel offer everything you might need; a restaurant and garden bar, two outdoor swimming pools and a spa, a library and even an antique gallery room which boasts many Lao artifacts such as jewelry and silk ware!
Location: Siem Reap, Cambodia.
Built: 1932
Easily one of the most well-known hotels in the entire region of Southeast Asia, the Raffles Grand D'Angkor has survived Cambodia's historical kinks, and continues to serve its visitors with its state-of-the-art service excellence. The luxury hotel has been known for hosting many legendary bigwigs over the years, such as that of Charlie Chaplin! Not only a heritage landmark, but an overall superbly functioning luxury hotel, and the best of its kind in Cambodia.
The Raffles Grand D'Angkor is among the major landmarks in Siem Reap, nestled between downtown areas, the Angkor Wat Archaeological Park, the Royal Gardens of the French Quarter and the nearby river.
This monumental colonial structure, Cambodia's premiere luxury hotel, not only has exquisite appeal from the outside, but it retains its history throughout the premises. The 19th-century prints depicting Cambodian life lay along the marble floored hallways, an original wooden lift, a gallery featuring the influential John McDermott's photographic work in the nearby Angkor Wat, and so much more.
Rooms within the Raffles Grand D'Angkor are immaculate down to the last touch; dark wood floors, antique furnishings, comfortable king-size beds that boast amazing views of their surrounding gardens and the largest swimming pool in Cambodia, with all of the necessary modern amenities, such as air-conditioning, minibars and coffee machines.
7. The Azerai La Résidence
Location: Hue, Vietnam.
Built: 1930
The Azerai La Residence in Hue embraces its majestic age-old colonial-esque exterior; fringed with long horizontal lines and nautical flourishes, it is made up of 122 luxurious rooms and suites. This luxury boutique hotel entails a colonial era mansion, two modern complimentary wings constructed in 2005, a large saltwater outdoor swimming pool, and is surrounded by an elegant garden right besides the Perfume River.
Recent renovations in 2018 have included the refurbishing of the East Wing, with newly modernized contemporary rooms, consisting of sun terraces, overlooking the scenic Perfume River and the gardens below. The original structure, a colonial mansion built in 1930, remains well-preserved in place for those who seek to experience a glimpse of a bygone era.
From 1935- 1940, the mansion held periodic local crafts fairs, showcasing products made by local fisherman, which quickly became well-renowned in Central Vietnam. It has famously served as the private abode for the French Resident Superieure. In addition to hosting official delegations, the mansion has housed the likes of Thai Kings, Bai Dai – the last Vietnamese Emperor, former presidents and many other significant historical figures.
Location: Yangon, Myanmar.
Built: 1920's
The Belmond Governor's Residence is an urbane, colonial-style teak mansion poised within the Embassy District of one of Myanmar's most popular destinations; Yangon. This is where a world of elegance meets rich Burmese heritage and culture. It is comfortably nestled among a viridescent, lotus pond laden estate, The Belmond Governor's Residence boutique hotel offers a selection of 49 rooms and suites to choose from, the Mandalay dining restaurant, and other features such as a large spacious outdoor swimming pool, a spa and a library.
This two-story mansion originally served as the governor's home for the British Crown Colony of Burma. It has since then well-sustained its historic architectural values, as can be seen from the mansions majestic 19th-century design. An on-site boutique arts and crafts gift shop offers fantastic handmade local souvenirs, and many other ideal offerings to friends and family back home.
Location: Bangkok, Thailand.
Built: 1876
Internationally exalted as being the best hotel in the world for its exceptional facilities and the outstanding quality of its services, the Mandarin Oriental in Bangkok has built this reputation since a time when Thailand was still called Siam. The Oriental, upon the banks of the Chao Phraya River, historically existed to cater to the needs of passing foreign seafarers.
The five-star luxury hotel has recently undergone significant reconfiguration of its restaurant La Normandie, introduced twelve new spacious suites along with terraces, and revamped the Authors' Lounge, restoring its glorious 19th-century design.
The Mandarin Oriental has become renowned for having many famous heritage authors as guests over the years, with signature lounges having been named after the likes of James Michener, Joseph Conrad, Noel Coward and more. Now, celebrating over '140 Years of Heritage, Passion and Service Excellence', this iconic hotel lies amidst Bangkok's main attractions, in wait to achieve nothing less than to luxuriate you.
Should you like to arrange a trip to experience one, or more of the aforementioned magnificent heritage hotels in Southeast Asia, think no further, and consult with one of our travel experts Here.