There is no way you can pack everything in Luang Prabang in just 50 hours. The best-preserved city in Southeast Asia attracts travelers of all ages by it hill tribes, cooking class, fabulous night market, dense forests, dozens of gold temples, and the amazing Kuang Si waterfall. You would better to divide and choose the best things you want to conquer.
Here is a guide which I've 'stolen' from our best travel expert, Ms. Mai Phuong, for you to spend 3 days, 2 nights in Laos tour. She did make it on her recent trip to the city last month. You can use it for your next trip or design your own one with the help of Mai Phuong – EV Travel Expert.
This is Mai Phuong. She is wearing a handmade 'crown'. We will follow her 3-day, 2-night itinerariy in Luang Prabang.
DAY 1
Once you arrive in Luang Prabang, head to colonial style buildings Satri House, located in the heart of the city. If you are interested in superior crafted wood furniture, oversized balconies, spacious bathrooms, beautiful spa room, and fine dining overlooking the garden, you come to the right place. All the rooms and suites are a blend of Lao traditional architecture with colonial style. Here you can enjoy your private moments and watch the everyday life of local people from your balcony.
Satri House is located in the heart of the city, has a colonial style.
Lovely pool in Satri House
Morning
Spend a half day with the elephants at Elephant Village Sanctuary & Resort. An English speaking guide will pick you up from your hotel to the Elephant Camp. If you have any doubt about riding an elephant for ethical reasons, you will change your mind when you see the elephant's treatment here. They are genuinely well cared for and the guides are very knowledgeable, not only about their animals but their country in general.
A half day tour includes a short briefing about elephants at first. Then you will feed them and take a bareback elephant ride across the Namkhan River about 1 kilometer. The rides are one guest per elephant. These giant animals are treated with respect: not any hook or weapon-like object are used to control them. They don't have to carry guest for more than 4 hours a day, and the rest of the day they can roam the forest until night as they want to. The mahout will call them back the next morning. That means, most of the time, they live in the jungle like wild elephants.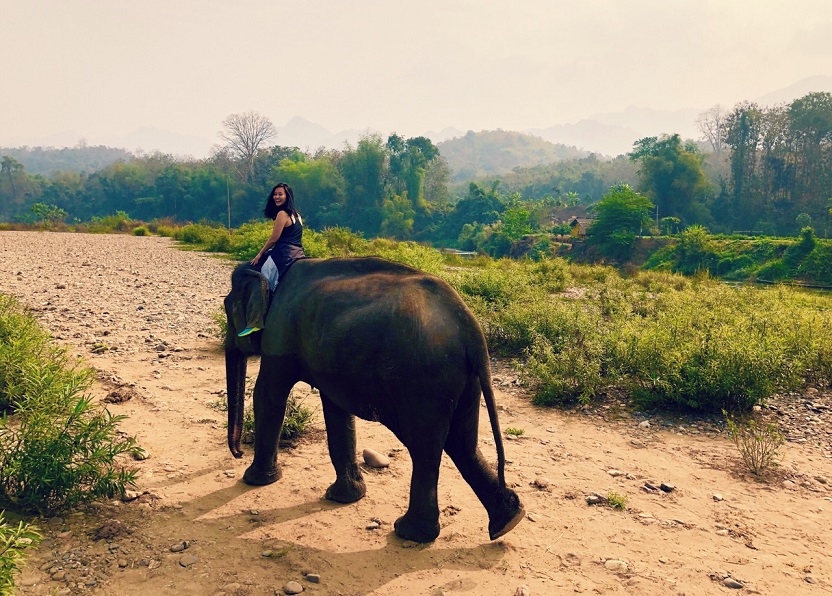 The elephants at Elephant Village Sanctuary & Resort can stay in the jungle most of the time.
Lunchtime
Lunch is included in the tour. You take a long boat up the river to the Tad Sae waterfalls where you have your lovely buffet lunch with coffee, tea, and drinking water. The fall pours over beautiful limestone formations into a large pool below like a retreat of nature. It looks better in the rainy season from August to November but to avoid the rain and better weather, let's come from November to April next year. After lunch, you will be transferred back to your hotel.
Afternoon
Walking to the quiet yet graceful temples is a must-do activity once you're in Luang Prabang. Compared to the temples of Thailand or the ones in Myanmar, Lao temples tend to be smaller but they make up for the lack of size with a beautiful decoration.
Over 20 temples can be found around the capital city of Laos so it's better to choose wisely from 3 to 4 among them which are enough for an afternoon walk.
Temples in Laos have small size but beautiful decoration
First, you should visit the Royal Palace. It was built from 1904 – a blend of Lao and French architecture. This Palace houses the important golden Buddha Phra Bang and the royal car collection. Then, you climb to Mount Phousi to Wat Tham Phousi temple which overlooks the River Khan. Next, head to the largest and most richly decorated Wat Mai which was built in 1788.
Walk along the Sisavangvong Road, pass through many coffee and local houses to the end of Luang Prabang peninsula before making a pause at the photogenic Wat Xieng Thong. This beautiful temple dates back to the 16th century and is famous for its sloping curved roof. Search for its colorful Tree of Life Mosaic and the King Sisavang Vong's funeral carriage which contains the ashes of the King, his father, and his mother.
Wat Xieng Thong with the famous sloping curved roof
Evening
Every night from 5 pm to 10 pm, Sisavangvong Road is closed to all kinds of vehicles and turns into a walking street where the Night Market takes place. Clean and friendly, it isn't as busy and crowded as night markets in Thailand and Vietnam. This is such a cultural treasure trove for those seeking handmade crafts, clothes, carvings, paintings, and souvenirs made from American bombshells. You'll never know what you will find.
There is a food area roughly halfway down the market: a true foodie's paradise with a large variety of Lao food ranging from BBQ chicken to vegetarian buffets for visitors to choose from. The food is fresh and pretty cheap. Free Lao sticky rice is served with BBQ. $15 – $20US is enough for a dinner of two people.
There is a large variety of Lao food ranging from BBQ chicken to vegetarian buffets
Not as busy as night markets in Thailand and Vietnam, Luang Prabang night market is friendly and clean.  You'll never know what you will find here
DAY 2
Morning
Mekong River plays an important role in Laotian daily life for fishing and boating. A tour of fishing on this legendary river will help you to gain an insight into the local life.
One hour driving from Luang Prabang takes you to Ban Had Kham village where you spend your morning with the villagers and fishermen. You will do gardening with farmers then learn how to use two local types of equipment to catch the fish on the Mekong River. Learning new fishing methods and interacting with friendly villagers is a unique experience you might remember for a long time after.
Mai Phuong was in the garden where she picked the vegetable for her lunch later
A traditional fishing method on the Mekong River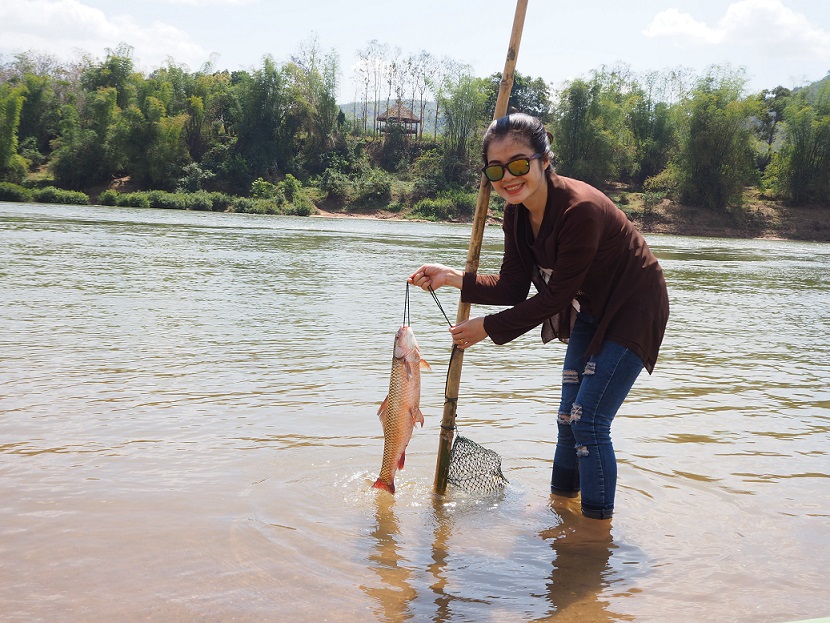 A fish was caught  for their lunch
Lunchtime
A picnic lunch is arranged under a shelter with fishes you catch on the day and vegetables you pick on the garden. You have a healthy lunch with grilled fishes wrapping in a lot of vegetables as well as other Lao's food. The dishes are serving on a low table and guests sit directly on a mat, just like the way Lao people have their meal every day.
Picnic lunch was arranged under a shelter 
The salad was made from vegetable picked on the garden
Afternoon
After lunch, a leisurely boat trip will take you down the scenic Nam Ou River in 30 minutes to enjoy the cool breeze and the peaceful scenery along the river before reaching the famous Pak Ou Cave. There is an old bamboo jetty leading to the cave. You have to climb quite a lots of narrow steps to access the upper and lower caves. They are both impressive and filled with hundreds of small ancient Buddhist relics and statues in many different positions. The winding upper cave is a lovely place to look over the Mekong landscape from above.
A boat trip down the scenic Nam Ou River took Mai Phuong to the Pak Ou Cave
Hundreds of small ancient Buddhist statues on the caves
Old and beautiful, these statues are witnesses of the time
Early Evening
On the way back to Luang Prabang from Pak Ou Cave, it's interesting to stop at the Mekong Sunset View Restaurant for an early dinner. This lovely restaurant locates near the river. It became famous since President Obama came to drink fresh coconut in his Lao visit in September 2017. He also conversed with locals and posed for photographs. Now, many visitors come to the restaurant to taste the local refreshment, try authentic Lao food, and take a picture with Obama's posing picture.
Mai Phuong had an early dinner at the Mekong Sunset View Restaurant. She didn't forget to take a pose with President Obama's picture
Late Evening
If you are tired out after a full day of activities and need a break from the picturesque Luang Prabang, head to Angsana Spa at Maison Souvannaphoum Hotel to enjoy a top-notch massage. Luang Prabang spa, in general, isn't as famous as the ones at Bangkok or Bali but there isn't a single moment of regret at Angsana Spa, no matter which type of massage you select and aromas you choose from. Everything about this spa speaks luxury, quality, and intimacy. The entire experience is restful and pleasant, including its special ginger tea after.
DAY 3
Morning
Save the best for last. This saying is so true to Kuang Si waterfall which is about 18 miles south of Luang Prabang.
Kuang Si is a giant waterfall that drops from the 200ft height and razors through the jungle before it flows into blue pools. For every pool and step you make toward the waterfall, you couldn't help marveling at how beautiful the scene is. The turquoise water, the limestone rocks, the tropical trees, and the fairy light make Kuang Si a must-see in Luang Prabang. Even the crowd can't take away its beauty. You can swim in the blue clean water as other visitors to cool down the heat after your trek.
The beautiful Kuang Si waterfall where you can dip yourself on the cool water.
End this morning with a return drive to Luang Prabang at noon and in time for your hotel check-out.