Phuket is the largest island and most well-known attraction in Thailand. There are great beaches, joyful party scenes, and amazing activities as well as fabulous food. This island draws a lot of tourists, but it also offers some peaceful places to escape the crowd. Learn to pronounce it right with the 'h' is silent, then pack your suitcase and prepare to enjoy a truly Phuket.
How to get to Phuket?
For many visitors to Thailand, the first days of their trip always are spending time in the capital city Bangkok, then heading off to one of the country's beautiful beaches to have more fun and relaxation.
It's quite a distance between Bangkok and Phuket (525 miles), so consider to stay at least a couple of nights. Transports options include flight, train, private car, and bus.
Due to the large distance, a flight is certainly can't be beaten in term of speed. It only takes approximately one hour. Many different airlines offer this route as it's one of the most popular routes in the country. There are over 50 flights per day between Bangkok to Phuket, transfer not only visiting tourists but also local people heading south. Taking a train is another option but keep in mind that there isn't direct train commuting down to Phuket. You will have to take a train at Hua Lamphong Train Station and get off at Surat Thani after 8 hours, then another 5 hours on a bus to arrive Phuket. This could be a long journey even though the scenery down Thailand is quite interesting, so weigh up the pros and cons before you decide.
You can get to Phuket by flight, train, private car, and bus.
Bus is the cheapest way to take you to Phuket, from Bangkok Southern Terminal Station, but also the longest in time (around 13 – 16 hours). Private car is probably the most fun because of its flexibility. You can stop at several beautiful places all the way along to take a rest and catch some nice photos. Therefore, this option is certainly the better choice when it comes to more than 500 miles of the journey.
Best time to visit
High Season (December through March): This is the driest, sunniest time of the year. The seas are calm and warm so it's perfect for beach sport activities. This also is the perfect time for diving and Phang Nga Bay is at its most beautiful, but expect the highest prices for accommodation, airfare, and restaurant.
Shoulder Season (April through May, August, November): Shoulder season unofficially begins after Songkran Festival which occurs on April. The rainfall increases but just are often short showers so you will see a lot of sunshine. Early November brings the end of the rainy season, yet falls just before the high season. Shoulder season is considered as the best time for surfing.
Low Season (June, July, September, October): This is the best time for saving money due to the rainy season. Beaches may not able to swim but the service prices are at the lowest level of the year.
Visit Phuket from December to March to take advantage of its calm and warm sea. 
Top things to do and see in Phuket
1. Watch the sunset over Phang Nga Bay
Phang Nga Bay features a number of limestone cliffs which emerge vertically out of the water. With mangrove forests, beaches, caves, and lagoons, this stunning bay is the perfect background for any visitor. You can immerse yourselves in the legendary Ao Phang Nga National Park, snorkeling at Khai Island, paddle the lagoons and caves of Hong and Panak Islands, bamboo raft down the stream in Khao Lak but never miss the Phang Nga Bay stunning sunset. Sailing on a cruise to capture the sun rays radiating their glow over the towering limestones – the spectacular scenery that you're hardy to meet twice in life.
2. Discover James Bond Island
That's not its real name of course (it doesn't sound like Thai at all). Its original name is Khao Phing Kan. But thanks to Roger Moore and the James Bond movie 'The Man with the Golden Gun' which was filmed here in 1974, the island got its new name and fame.
The main attraction of the island obviously is the standing rock emerging from the water. You may want to discover small caves inside the leaning rocks, buy souvenirs made from shells and wood, swim, or take photos of yourself in a pose as the famous scene in the movie.
Learn to pose as Mr. James Bond 007
3. Learn Local Life at Koh Panyee Fishing Floating Village
Koh Panyee is a small island with huge limestone cliffs. There are more than 300 families in the village living in hundreds of stilt houses which are built over the shallow water. The village's name is an interesting story. More than 200 years ago, an Indonesian fisherman and his family left their homeland to look for a new place to live. They discovered this island, where had lots of fish, and decided to settle on. They climbed a towering cliff, raised a flag atop so their two other friends' families could see and joined them. That is how the island got its name, Koh Panyee or The Island Of Flag. Most of the village's residents are descendants, directly or indirectly of the first three families. They are very friendly, especially the children. It's easy to make friend with them and learn a bit about their colourful life.
4. Do Island Hopping on Phi Phi Archipelago
Phi Phi Island is one of the most beautiful islands of Thailand. For some, it's the only reason to visit Phuket. It's been in "The Beach" movie of Leonardo DiCaprio, and despite all of the hype, it doesn't make you disappointed.
With perfect turquoise water and oceanside cliffs, there are so many things you can do to enjoy your time here but make sure to do an island hopping to all the remarkable islands on Phi Phi. Take a speedboat tour to explore Phi Don Don and Phi Phi Lei, stop to snorkel off Mosquito Island, land the Monkey Beach to see the monkeys, then sunbathe on the sandy beach of Mosquito Island, you won't get even a minute of boredom.
Don't miss the beautiful Phi Phi islands
5. Take a Hong by Starlight tour with John Gray sea canoe
You might wonder ''What is Hong?'. Yes, it's a sea cave which is found by John Gray – the godfather of sea kayaking in Thailand – in 1989. He also developed the Hong by Starlight tour to help travelers get away from the crowds, to immerse themselves in nature and wildlife.
The tour often starts at midday to avoid the crowds. Don't mind about the lunch, healthy and fresh foods are served on the boat. Kayaking will take you into 'Hong', the beautiful star of the boat tour, then paddle through the hidden lagoons to spot macaques, kingfishers, egrets, sea eagles and Brahminy Kites. Later, you will move on to the second island to explore two more caves. The most interesting experience happens after dark. You will be instructed to make your own Krathong and learn the meaning of each element such as marigolds, incense sticks, and candles. Sending this small floating decoration on the water is believed to sending a sign of new beginning and a wish for good luck. This is a miniature version of the widely known Loy Krathong in Thailand but without the crazy and noisy crowds.
Delight your holiday with the famous Hong Starlight tour.
6. Explore Khao Sok National Park
If you have a long holiday in Phuket, you should consider a trip to Khao Sok National Park. It takes nearly 4 hours to get there but you won't feel regret especially if you travel with your kids.
The wondrous Khao Sok National park is around 738 sq. kilometers and considered as one of the oldest rainforests in the world. It is home to a lot of large mammals, so expect to spot a monkey, bear, boar, deer, marbled cat, and elephant when you are trekking into the jungles. The best way to explore the park is from a long-tail boat. You will be sailed along the Cheow Lan Lake to visit many caves and waterfalls. Apart from trekking and exploring the lake, you can do bird watching, night safari tour, bamboo rafting, and overnight stay on a raft house with beautiful view over the Cheow Lan Lake. Countless activities make Khao Sok National Park one of the best trip for family .
A lot of interesting activities in Khao Sok National Park make it one of the best trip to family 
7. Wat Chalong
The island of Phuket has 29 Buddhist temples scattered throughout, but Chalong Wat with its red-roof, dozens of carved Buddhas, and lotus ponds is the most beautiful to see.
No one knows exactly when the Wat Chalong was established, though many people believe that was built during the reign of King Rama II (1809-1842). The temple is dedicated to Luang Pho Chaem and Luang Pho Chuang, the two monks who led the fight against the Chinese rebellion in 1876. The most major part of the temple is the Grand Pagoda which is home to a fragment of bone of Lord Buddha. This splinter was brought from Sri Lanka in 1999 and enshrined in the pagoda in September 2002. Wat Chalong opens daily from 7am-5pm.
8. Big Buddha
Big Buddha is the most important religious site in Phuket, sits on the top of Nakkerd Hill. The 45 meter-high statue is made of reinforced concrete then covered by Burmese white jade marble. There are also several much smaller statues of Buddha and of monks next to the main statue. From here, you can rest in the sound of tinkling bells and soft dharma music, and capture incredible views of Phuket town and Karon beach. This site opens daily to visit from 8am-7.30pm.
9. Party on Hype Cruise
If you find yourself are looking for something more exciting than just beautiful beaches, you should try a day-party on Hype Luxury Cruise.
Based on the concept of a beach club, Hype Luxury Cruise offers comfortable sun lounger, daybeds and a spacious trampoline on the crystal water of Phuket. A wide selection of finger food appetizers, fine champagnes, and cocktails will satisfy your palate, as well. The DJs will keep your bodies moving and shaking when they spinning their tracks. It's time to have fun.
Photo: TripAdvisor
10. Make your rum at the Chalong Bay Rum
If you are a rum drinker, the Chalong Bay Rum Distillery should be your next stop. The company uses 40-year old copper alembics to produces all-natural high-end white rum.
There are lots to do when you arrive at the distillery. You will start by taking a tour where you have more knowledge on the rum making process and learn how the Chalong Bay Rum is made. You then will be led to the cocktail workshop and bar where the professional mixologists will teach you to make some kinds of cocktails and taste the Chalong Bay rums.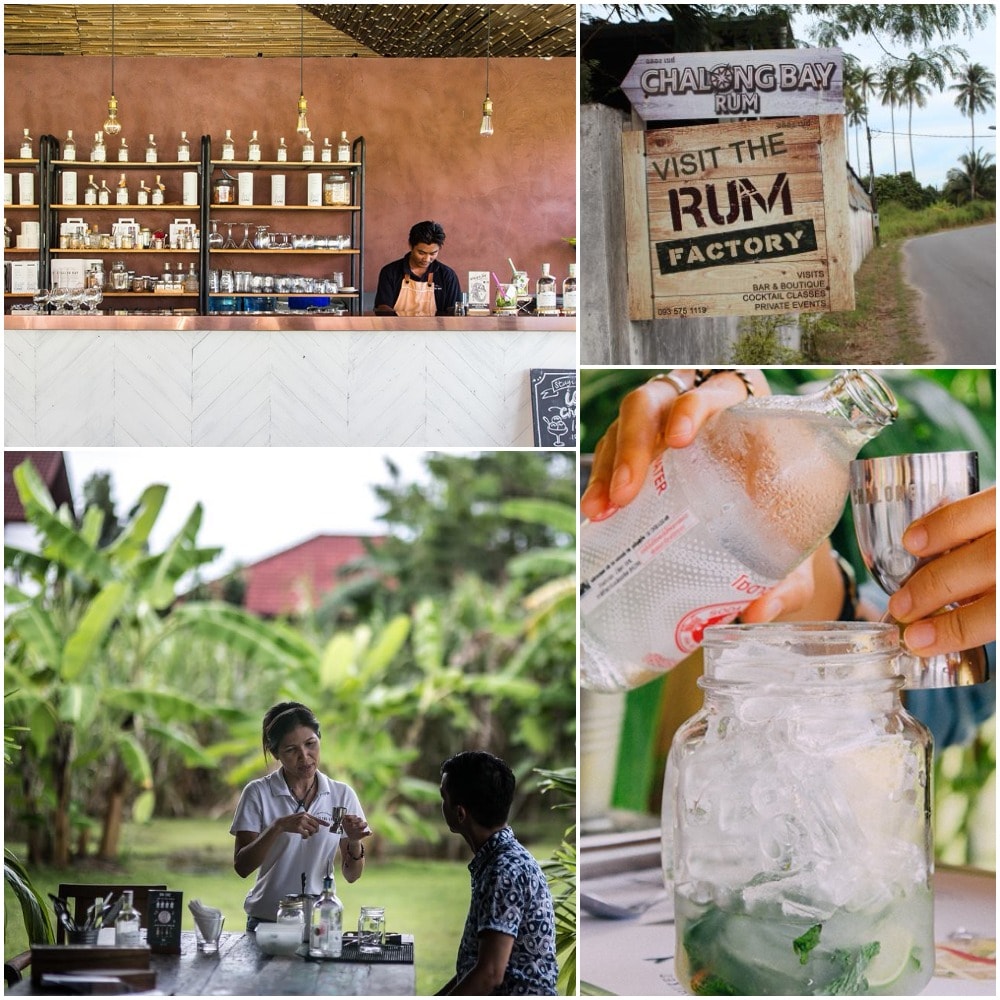 Learn to make your own rum at the Chalong Bay Rum
– Address: 14/2 Moo 2 Soi Palai 2, Chalong, Muang, Phuket
Open: 8.00am – 7.30pm, Monday to Saturday
Admission: distillery tours run between 2pm and 6pm, and cost 450 baht including a free mojito. Cocktail workshops can be arranged at any time and last two hours cost 1,700 baht and include 3 cocktails making and sipping.
11. Stroll Around Phuket Old Town
Not many visitors leave Phuket without a visit to the colourful Old Town. This is the historically rich part of the town which was built in the 19th century during the heydey of the tin trade.
The town itself is not that big so you can easily walk around it rather than talking any transport. Take your time to soak up all its spicy flavour with lunch in a lovely cafe, a stroll along the main streets including Thalang, Phang Nga, Krabi, Dibuk, and Yaowarat, which are proud of remarkable Sino-Portuguese architecture on both sides, and some Sino-colonial mansions which dated back 100 years ago.
The best time to do this is in the morning or in the late afternoon when the day has lost its heat.
12. Relax At Beach Club
Beach club is a new trend but grows up very fast in this island providing another option for Phuket nightlife. It's easy to understand when the island has more than three dozens of beaches around. Visitors come here to capture the view of Andaman sea, relax, and party all night. Most of the famous clubs are located right on the sand with swimming pools, sunbeds, extra-large sofas, delicious food, good cocktails, and a fantastic wine list for customers to enjoy a chilled-out day. In the evening, the clubs really come to life. House and guest DJs play nu-disco and techno music transforms the clubs to a big party night.
Chill out at one of the many famous beach clubs (Photo: TripAdvisor)
Popular beach clubs in Phuket:
– Dream Beach Club
Opening Hours: 11:00 – 24:00
Location: Layan Beach Soi 2, Bangtao
– XANA Beach Club
Opening Hours: 10:00 – 24:00
Location: Angsana Laguna Phuket on Bangtao Beach
– KUDO Beach Club
Opening Hours: 9:00 – 24:00
Location: Just past Bangla Road, Beach Road, Patong
– Catch Beach Club
Opening Hours: 09:00 – 02:00
Address: 202/88 Moo 2, Bangtao
– Café del Mar Phuket
Opening Hours: 10:00 – 02:00
Location: 118/119 Moo 3, Kamala Beach.
13. Visit Naka Market
The Phuket weekend market is located just outside Phuket town off Chao Fa West Road, near Naka temple – that is why the local calls it Naka market.
The lively night market starts up in the afternoon and carries on into the late evening. Hundred of shops will fulfill your shopping desire. You'll be easy to buy a Thai t-shirt with half of the price, colourful flip-flops, handicrafts. If you are hungry, there are street food stalls selling yummy snacks, seafood, spicy noodles and fried insects if you dare to try.
Where to stay in Phuket?
Perched atop one of the highest points of Phuket, The Pavilions is a heaven of tranquility.
Trisara Resort is nested in the tropical hills, just a stroll on the shores of blue Andaman Sea.
One-hour drive from Phuket International Airport, Paresa Resort situated on a cliff side, overlooking the stunning beaches.
With the award-winning Spa, Angsana Laguna Phuket is a truly tropical getaway on scenic Bang Tao Bay.
Just 1 minute walk from the beach, the luxury property boasts spacious rooms which are decorated in Thai-style. Each has private balcony overlooking beautiful landscapes.
Andara Resorts & Villas Phuket
This resort also has one of the best-rated locations in Kamala Beach. It offers luxurious villas with pavilion for outdoor dining, views of the Andaman Sea, and private infinity pool.
One of the best hotels on the Patong beach, the Avista Resort and Spa's architecture is designed to blend into nature, against the backdrop of lush evergreen hills.
Surrounded by a blue lagoon, Banyan Tree Phuket is a perfect destination for a tropical holiday.