Have you ever be allured by Asian food? I sure at least one in your lifetime, you have a dish from this mysterious region that you are craving for more. If so, why don't you make your New Year table more vibrant and flavorful with an inspiration from Asian cuisine? Choose from the list we suggest to set up your table. Best thing is all are simple to make.
STARTER
Chinese Egg Drop Soup
Being colourful, flavorful and simple, egg drop soup is a great healthy choice if you are looking for a lighter soup among so many dishes on New Year. To make your soup perfect, you just need to remember whisking your eggs together until they are smooth and remove the broth from the heat when it comes to boil. Pour your eggs immediately while using a fork to stir the broth in a circle to create beautiful egg ribbons. You can add some corn for your interest, green onion for more colour, both are optional but be sure to season the soup with salt and pepper. It will have your taste bud singing.
Colourful, flavorful and simple, egg drop soup is a great healthy choice (Photo: stevendepolo)
Vietnam Summer Rolls
This Vietnam dish is super-healthy and will make you ask for more. Making spring rolls is lots of fun and simple, most of the time goes into the preparation. You can get veggies of your choice, but consider orange carrot, green cucumber, lettuce and herbs, white rice noodle, and red bell pepper if you like to make it more colourful and crunched. With seafood lovers, add shrimps to leverage the rolls and bring out a natural sweetness to the dish.
This Vietnam dish is super-healthy and easy to make (Photo: Anthony)
Japanese Miso Wonton Soup
Japanese are famous for their healthy eating habit. If you are looking for a healthy diet in New Year, you can start with one of its dishes.
Miso Wonton Soup is clean and easy to make. It is so simple that you might think if anyone can boil a water, she can make the soup. The ingredients are chicken, wonton wrappers and some kinds of veggies you have around: carrot,  baby bok choy, green onions, mushrooms, bell peppers or you can use frozen peas, corns, anything you like. They are all suitable for chicken broth but don't forget to slice them thinly before cooking. It needs only about 30 minutes to prepare and cook. You have a thin broth, delicate wonton, tender veggies to serve your family.
If you are looking for a healthy diet in New Year, you can start with Miso Wonton Soup. (Photo: Guilhem Vellut)
SALAD
Som Tam (or Green Papaya Salad)
Who doesn't like Thai food? There is just something about the perfect balance of sour, spicy, sweet and salt in its cuisine from Tom Yum Goong, Gang Massaman, Pad Thai to this small Green Papaya Salad.
The best thing about this salad is you don't have to cook. It's easy, you just need to grate the green papaya and a few carrots and crush garlic and chilly in a bowl. Then you mix them with sugar, dried shrimps, lime juice, fish sauce and cherry tomatoes cut half. Leave them in about 10 minutes and sprinkle roasted peanuts on top and serve immediately for the best taste. The dish is a balance of sour, salty and sweet. It's nothing but tempting.
Indian Kachumber
Kachumber is a great, healthy salad comes from India. The salad has a bright, beautiful colour with tomatoes, cucumber, onions, adding flavour with cilantro, mint and little green chillies. To make Kachumber better, you run the onion under cold water for 10 seconds and use a bit of salt on the tomatoes to let them drain. The dish makes a great accompaniment to a New Year dinner. Don't wait to discover.
Vietnamese Mango Salad with Shrimp
Vietnamese mango salad is a vibrant dish which will blow your mind away. It's a mouthwatering combination of mango, shrimp, fresh herbs, a balance of sweet, sour, and salty. The key here is choosing a mango. Forget the ripe ones, stick to a green mango or unripe one which is less fibrous, more crunchy and sour. It can be any herbs you have on hand. You can add cucumbers, carrots or bell peppers to have more colour and rich contrast of texture, or don't add if you don't like. Be flexible to get your best taste.
The key to making a perfect mango salad is choosing a mango. A green mango or unripe one is less fibrous, more crunchy and sour (Photo: aMeovat)
MAIN DISHES
Mu Shu Pork
Stop looking at your phone and you can make your Mu Shu pork in just 20 minutes. Add your favourite ingredients like mushrooms, cabbage, carrot, baby bok choy, pork or chicken and before you recognize, your dish is complete.
Ingredients:
– Sesame oil: 1 tablespoon
– Stick-cut carrot: 1 cup
– Sliced mushrooms: 5 ounces
– Sliced green onion: ½ cup
– Thinly sliced cabbage: 4 cups
–  Thinly sliced pork: 12 ounces.
– Vegetable oil: 1 tablespoon
– Soy sauce: 2 tablespoons.
– Hoisin sauce or plum sauce: ¼ cup
– Salt, sugar.
– Tortilla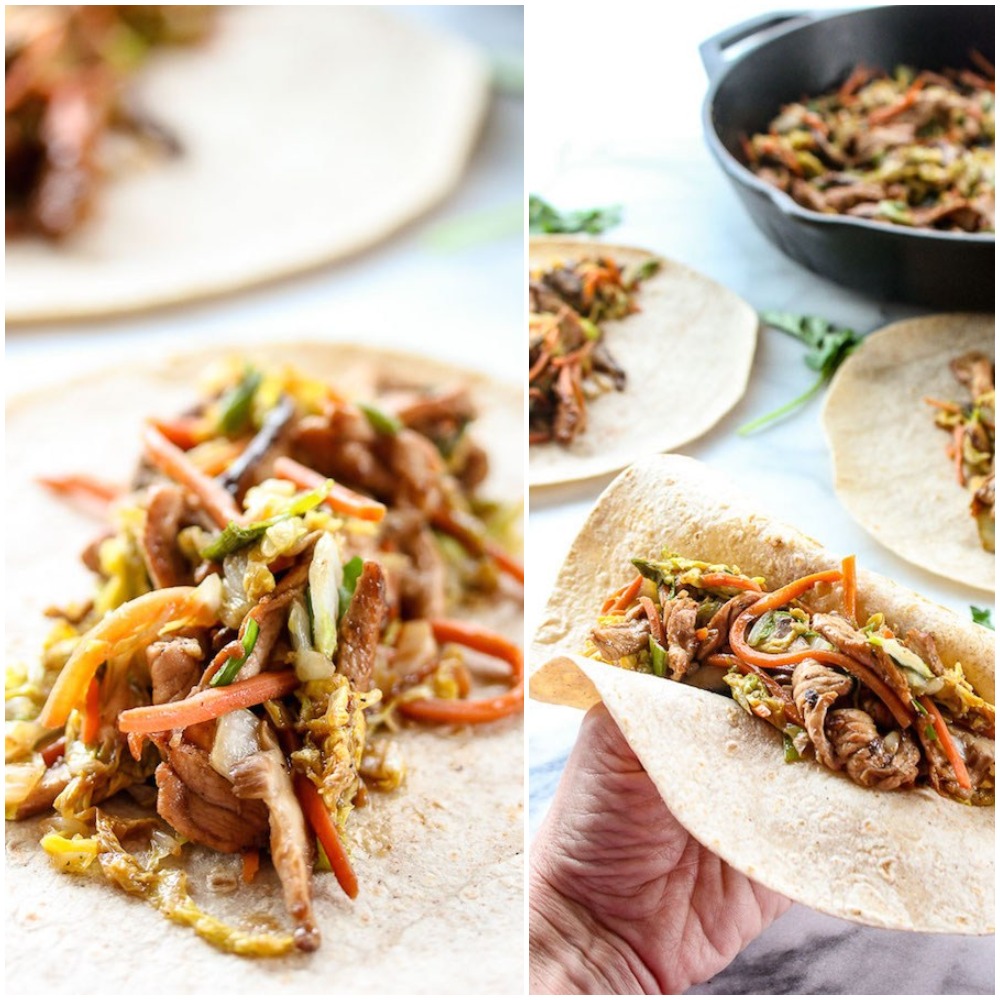 Stop looking at your phone and your Mu Shu Pork will be done
How to make it?
– Cut meat into thin strips.
– Heat a large skillet over medium heat. Add vegetable oil to the pan.
– Add meat and stir the meat until it slightly pink in the centre. It will take you about 3 – 4 minutes. Remove the meat from skillet.
– Add mushroom and green onions to the hot skillet. Stir frequently in 3 minutes until the mushrooms are tender. Add cabbage, carrot and cook for 1 – 2 minutes more or until the cabbage is wilted.
– Put the mixture of cabbage, carrot, mushrooms into a large bowl, add salt and stir.
– Wipe the skillet clean and heat it again. Return the meat to the skillet.
– Add soy sauce, sesame oil and cook until the pork is browned and done.
– Stir in hoisin sauce. Add cabbage mixture to pan; toss gently to combine and turn off the heat.
– Spoon about 2/3 cup mu shu pork into each tortilla; roll up
Spicy Korean Chicken
You may not know much about Korean food, but you must hear about Korean BBQ ribs or Korean BBQ chicken at least once. This spicy chicken is a version of Korean but easier to make with an oven or a pan. The secret of its recipe is marinating the chicken with Korean gochujang (a Korean chilli sauce) which you can find at any Asian stores or Korean stores. The sauce makes the food more spicy and appetizing. This chicken serves on top of steamed rice with some boiled broccoli. You have a super yummy meal.
Have you ever tried Korean BBQ before? Look yummy right?
To give your New Year dinner a Thai twist, make a dish of Tiger Cry steaks. The dish's name is so odd. Some say, in the old days, the steaks were made from a cheap and tough cut of beef that even a tiger's sharp teeth can't chew, then it gets sad and cries. Some say the name comes from the hot dipping sauce which makes the tiger weepy.
But the tiger's tear doesn't mean the steak isn't delicious. To make this, you immerse steaks in lime juice, fish sauce, and molasses for 30 minutes before grilling. Turn the steaks frequently, until the desired doneness is reached but medium-rare is perfect. Remove it from the grill, let it rest for 5 minutes and serve with Thai steak sauce and rice.
To give your New Year dinner a Thai twist of Tiger Cry steaks (Photo: Pittaya)
DESSERT
Hong Kong Mango Pancake
If you love fresh fruit and don't have a sweet tooth, Mango pancake is a perfect choice for dessert after dinner. This pancake is very popular in bakeries in Hong Kong and it isn't really a pancake. It's actually a fresh mango cube topped with whipped cream then wrapped in a thin crepe. In one bite, you can feel the fluffy cream, sweet and soft mango and elastic pancake. Mango pancake is a dessert to die for. (You can make a strawberry pancake, kiwi pancake too).
Mango pancake is a perfect dessert for those who love fresh fruits. (Photo: karendotcom127)
Bubur Cha Cha
Not many desserts are more refreshing than a cold bowl of Bubur Cha Cha – a popular dessert of Malaysia. Traditionally, Bubur Cha Cha served with steamed sweet potatoes and yam pieces. However, over the years, the Malaysian adds coloured jelly cubes, black-eyed peas, slice bananas and pearled sago into the original recipe. Coconut milk and pandan leaves are used to make it scented and sweet. It can serve warm or cold with ice.
Traditionally, served with steamed sweet potatoes and yam pieces but now they add more ingredients such as jelly cubes, black-eyed peas, slice bananas and pearled sago (Photo: kenh14)
Vietnamese Donut (Banh ran)
Sweet, soft and chewy, this pop-in-your-mouth dessert is a common snack in Vietnam. The outer shell is a mix of rice flour and sugar. The filling includes steamed mung bean blended with sugar and a dash of vanilla extract or jasmine flower essence for a nice aroma. And it's soo easy to form a Banh ran that even your children can do. You flatten out a small disk of dough, add a ball of mung bean in the centre. Close off the ball and roll in your hand to form a ball shape. Keep in mind that they will slightly expand during cooking so don't leave any air pockets inside. To finish, you roll the doughnut into a bowl of white sesame seeds to coat. Deep fry until the outer shell has a caramel colour. You will satisfy with the crispy exterior, the lightly sticky rice dough of the surface's other side and the sweetness of mung bean. A perfect balance between the crisp and chew.
Sweet, soft and chewy, this pop-in-your-mouth dessert is a common snack in Vietnam (Photo: kenh14)