Bali is one of the most rewarding destinations for healing holidays thanks to its beautiful landscape, ancient treatments, and spiritual healers. Now, it's time to pamper your health and fitness at luxurious levels.
When it comes to holistic wellness and healing, few places do it better than the Como Shambhala Estate. The jungle and riverside setting makes sure that you are resting amidst nature. The cuisine focuses on organic field-to-table foods and the physical activities incorporate mountain biking down the winding roads to volcanic trekking at dawn, definitely promoting a healthy living style. Nine treatment rooms, with various programmes specifically designed to meet your needs and goals, will help to enhance the connection between your body and mind. Como Shambhala Estate does its best to make sure that you check out feeling completely invigorated, energized, healthier and stronger than before.
A place where you can just stay and relax
Enjoy the massage treatment…
… and listen to the sound of nature.
2. Fivelements Puri Ahimsa
If you are going through a stressful time, and are about to hit the "reset button", Fivelements is a definite must. You'll be treated to an enticing gourmet menu of plant-based meals, a range of holistic ancient therapies passing down through generations, a meditative fire blessing ritual, tranquil riverside healing rooms, and peaceful bamboo accommodation located right next to the winding Ayung River. It's your time to switch off, with only the sounds of the surrounding water, wind, and birds chirping away. This award-winning eco-conscious retreat has successfully created a sanctuary that focuses solely on healing and well-being.
It's time to hit the "reset button"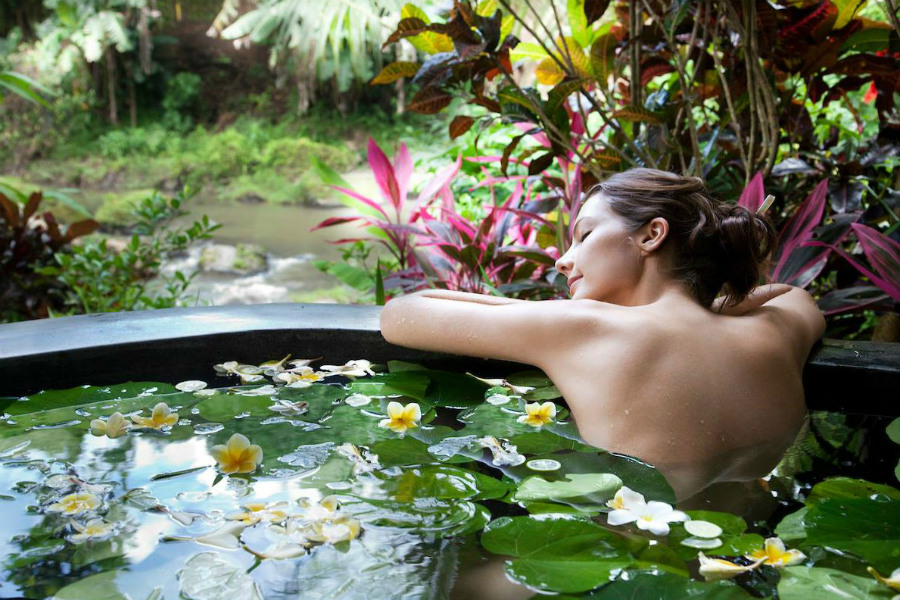 It has been a long long time you didn't nourish yourself.  You deserve the most relaxing holiday…
… and the most delicious meals.
3. Four Seasons Resort Bali at Sayan
We don't have to talk much about the luxuries of this spectacular property which was voted as being the #1 World's Best Hotel by the Travel + Leisure magazine in 2018, but it never gets enough admiration for its Sacred River Spa. Constructed entirely from local bamboo, the Spa area looks like a lotus petal amidst beautiful rice terraces and the sacred Ayung River. Here, your strength and flexibility are improved by hanging on an anti-gravity hammock. Your physical and emotional tensions are to be melted in a hot rock massage. Body energies are restored and healed through blissful Chakra ceremonies. After consulting with a Balinese spiritual healer to find out your inner thoughts, you will be ready to return to city life with a new sense of mental and physical well-being.
Now, you know why this property was voted as being the #1 World's Best Hotel by the Travel + Leisure magazine in 2018
Your strength and flexibility are improved by hanging on an anti-gravity hammock
A Balinese spiritual healer will help to find out your inner thoughts
4. Sukhavati Ayurvedic Retreat & Spa
The eight villas of Sukhavati Ayurvedic Retreat nestled amidst rice terraces, rolling hills, luscious jungle vegetation, and the river by the peaceful Bebengan village. The surrounding architecture and interior are carefully designed to provide a sense of calmness and serenity. A personal rejuvenation programme is tailored to what you want to focus on improving. Relax and let the yoga sessions, healing body therapies, and organic meals pamper your body, soothe your mind, and nourish your skin. The skillful staff have a world of knowledge about what they do and treat guests like true royalty.
It's important to get enough sun every day.
Everything is a choice. Make your choice and revitalize your mind and soul.
At Sukhavati Ayurvedic Retreat & Spa, you won't have to struggle to have enough vegetables each day.
5. Thermes Marins Bali Spa at AYANA Resort
Voted by readers of the Conde Nast Traveler as being the World's Best Spa, Thermes Marins Bali can't be left out of this list. You can't fail to feel leisurely when you step into your graceful suite filled with elegant decor and authentic Balinese touches. Suites either overlook the ocean or the landscaped gardens with private balconies. For anyone who wants to hide away from the other guests, there are Spa villas located on the rocks that are surrounded by the sea. Here, your body is nourished with luscious, precious elements of pearl, jade, and diamond. A bathtub of 500 red-rose petals with champagne awaits after your treatment to give you a deep sense of relaxation.
Sunbathe or dip in the pool?
Hideaway at the Spa villas located on the rocks that are surrounded by the sea
Fuel your day like no other
6. Desa Seni
Perfectly combined with the elements of luxury and rusticity, you'll easily fall for Desa Seni the moment you arrive there. Everything from traditional wooden houses, tropical gardens, handmade local fabrics, carved wood furniture to the graveled paths and saltwater pool aims towards bringing good health, wellbeing, and tranquility. The open-air yoga studio is the heart of Desa Seni having classes opening throughout the day. The Merapu Svaasthya Spa offers a variety from Western to Eastern therapies focusing on health and healing. A Chakra ceremony to share wisdom with Balinese healers completes the healing treatment and gives you a deeper understanding of the meaning of life.
A place is just for retreat
Get grounded with nature
Are you missing a treat?
7. Svarga Loka Resort
If you're looking for a healing holiday that assists you both spiritually as well as physically, the wellness programmes at Svarga Loka are well designed to fulfill your wants and needs. Eco-friendly materials are used to create a tranquil environment towards wellbeing. Suites, pools, yoga rooms are interspersed in harmony with tropical trees and flowers. At the Ayusha Wellness Spa, which is set right on the bank of the Campuhan River, holistic treatments vary from traditional Balinese healing to Mantra massages. The therapists focus exactly on what you need to release such as stress, tension, and toxins from within the body and mind. Supplement your healing programme with organic food to return home feeling lighter, brighter and more energetic than ever before.
You are treated with many beautiful views
This is how you nourish yourself every day in Svarga Loka
Jump in the pool and start your day deliciously stylish 
8. Maya Ubud Resort & Spa
Calm and relaxed is how you will feel after a stay at this magical resort. Its thatched-roof design is inspired by traditional Balinese villages. Surrounded by a river valley and tropical rainforest, Maya Ubud creates a sanctuary for peace and serenity. They use traditional Balinese technique and thousand-year herbal remedies to relieve your tired muscles, remove toxins from your body, and balance the senses of the mind. A wide range of spa treatments bestows a new sense of calm. The open-air pavilion of the Yoga center, overlooking resort gardens and their adjacent rice paddy fields, provides lessons and meditation to support your mind, body, and the wellness of your spirit.
A sanctuary for peace and serenity
Unwind your mind, body, and soul with nature
Is this your favorite spa therapy?
When the stresses of work and daily life have set in, and you can't remember the last time you nourished yourself, it may just be the right time to book yourself a retreat to get away from it all, then get back to basics with a new you. Bali is famed for its wellness retreats, and we have the travel experts who know Bali like the back of their hands. Book a tour with us to Bali, we would love to introduce you to the best healing holidays of your lifetime.