As many as those who would relate cruising with crass tourism, an increasing number of people have realized that the judgment is untrue. With properly running vehicle and discreet guide, it can be enjoyable, and especially an efficient trip like any other one you can plan.
We can immediately provide you 5 reasons why cruising Southeast Asia is the new trend of traveling
You only need to unpack once, when boarding the ship. Then enjoy a long-haul trip to various destinations
The exotic beauty of Southeast Asia's nature can hardly be rival
A cruise in Southeast Asia also includes port stops at dynamic urban centers
You can be laid-back and enjoy the tropical sun and breeze on the deck
Engage in adventurous tour upstream through rural areas and dense rainforest
Then if you are wondering where to try out cruising, here are our nominees:
 Ayeyarwady River –  Myanmar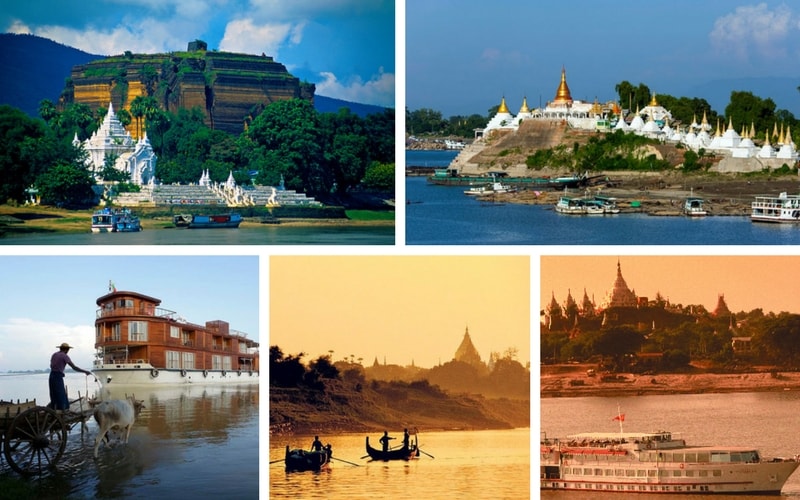 Irrawaddy or Ayeyarwady River, is the principal river of Myanmar, which runs through the central Myanmar and pours out the Andaman sea. Being Myanmar's most important commercial waterway, it stretches about 1,350 miles (2,170 km) across the country.
The name "Irrawaddy" is an English corruption of local name Ayeyarwady Myit, which some scholars translate as "river that brings blessings to the people"(National Geographic). Its valley has long formed the historical, cultural, and economic heartland of Myanmar. For decades of political and economical unsettlement, the Ayeyarwady is still faithful to the Burmese people. They still wash, drink, travel on the river; and the river, being inseparable from their living and spirituality, is their hope.
During the ride, may you take some short stops to explore rural villages from a bygone era, see saffron-robed monks go about their daily rituals, and marvel at thousands of shrines and pagodas which soar out of the lush jungle.
Cruise line: Belmond Road to Mandalay Luxury
You can freely discover the sights, scents and sounds of Myanmar busiest river road on this cruise. Belmond Road to Mandalay provides a cool, relaxing spaces to mingle onboard, as well as luxurious cabins and indulgent services, including an introduction about Burmese culture, cuisine and entertainment.
Best time to visit: is based on levels of the Irrawaddy: around September – April.
Best tour featuring  Ayeyarwady River
Best of Myanmar: You are embarking on an expedition deep into Burmese glorious nature and culture, filled up with amazing experiences in three cultural hubs of the country – Yangon, Bagan, and Inle.
Essential Myanmar: Visit the gilded pagodas in Yangon, take a ballon ride on top of thousands of temples in Bagan or admire the skills of one leg rowing fishermen in Inle Lake, you will have a journey of a lifetime through rich culture and stunning nature beauty.
—
Ha Long Bay – Vietnam
Ha Long Bay, located in the Gulf of Tonkin, within Quang Ninh Province, in the northeast of Vietnam. Covering a wide area, Ha Long Bay has over 1600 islands and islets, most of which are uninhabited and unaffected by humans.
The name "Ha Long" means "Descending Dragons" is based on a folklore that a dragon helped the local defend the invaders by petrifying its body as the barrier in front of the mainland.
Here, towering limestone pillars and tiny islets topped by forest rise from the emerald water. Designated a World Heritage site in 1994, Halong Bay's spectacular scatter of islands, dotted with grottoes, is a vision of ethereal beauty and, unsurprisingly, northern Vietnam's number one tourism hub.
Most visitors sensibly opt for cruise-tours that include sleeping on board within the bay then head for Cat Ba Island from where trips to less-visited but equally alluring Lan Ha Bay are easily set up.
Cruise line:
The most famous cruise in Ha Long Bay that owns a luxurious collection of fleets that exemplifies the beauty and mystery of Ha Long Bay. Paradise Cruise serves their visitors authentic experience with discretion to small details and the knowledge of a long time expert at the bay.
Emperor Cruise has the advantage of the first all-inclusive cruise in Vietnam. Primarily operates at Nha Trang, they now launch a new line in Ha Long bay, investing in the newly built, custom-designed, traditional imperial cruise ship.
Best time to visit:
All year round, but the weather is cooler in Spring (March & April) and Autumn (September, October)
Halong bay is featured in Best tours in Vietnam
Complete Vietnam: This tour is designed perfectly for those who visit Vietnam for the first time, traveling from the North to the South, visiting most outstanding spots of the country such as Hanoi, Halong Bay, Hue, Hoi An, Saigon, Mekong Delta, and then bringing a beatific complete Vietnam experience back to your home country.
Sweet Honeymoon in Vietnam: Sweet Honeymoon trip is designed for couples to enjoy Vietnam charming beauty in intimate privacy and to experience exclusive romantic offers only for honeymooners.
—
 Mekong River
The longest river in Southeast Asia, the Mekong River journeys from the Tibetan Plateau to the southeast, through Laos and Thailand to the equatorial floodplains of Cambodia and Vietnam, then finally into the South China Sea.
Today, around 60 million people live and work by the Mekong. It is also a cultural hub and a major transportation route for those dwelling near. Vientiane (Viangchan), the capital of Laos, and Phnom Penh, the capital of Cambodia, both stand on its banks.
The flow at each section is different as well as the scenery and culture of each country that the Mekong runs through. You will likely see floating markets selling fish, coconut candy, tropical fruit, vegetables and flowers to bee farms that line the river, the Mekong always throbs from before sunrise to after dark with vital economic activity.
Cruise lines:
Heritage Line
Heritage Line is a consummate collector of classic river vessels who try to emulate the glories of a bygone era in the Indochina. Authenticity, tradition, art and exploration are the heart of their service. Heritage Line operates in three countries including Vietnam, Cambodia and Myanmar.
Aqua Cruise
Taking guests on a cruise in Vietnam and Cambodia on the magnificent Mekong. Being the best cruise on this stretch of river, Aqua Mekong is a floating five-star hotel which offers a fully equipped gym, screening room, outdoor cinema, observation deck, and an upper-deck pool.
Visit Mekong River with Best Mekong Tours:
Finding Vietnam & The Lost Temples of Angkor: It's like a journey through times, where you are transferred from the hustle bustle of modern cities like Hanoi and Saigon, to the unique heritage of Hoi An ancient town and the ever so impressive Angkor Wat.
Indochina Essence: Visit the historically and culturally important sites of the three countries Vietnam, Laos & Cambodia to understand their people, their way of life as well as the nature wonders that these countries hold dear.
—
Mergui archipelago – Myanmar
The beautiful Mergui Archipelago (also known as the Myeik Archipelago) lies in the extreme south of Myanmar. Made up of more than 800 islands which vary in size, Mergui is also home to a surprisingly large biodiversity. The archipelago offers great opportunities for discovery of spectacular marine life and pristine scenery as well as the living of sea nomadic – the Moken, who live on the sea and jump from island to island.
It will be a dreamy voyage that took visitors beyond internet connectivity: from green coastal waves to the kind of 100ft depths blueish water, past piratical-looking fishing boats and islands with the outlines of rusty blades. Scampering macaques foraged for crabs on the islands' rocky shores, white-bellied sea eagles wheeled. The magical underwater world is worth every second of your time here.
Cruise line
Lamina: The adventurers seeking new horizons will be satisfied to travel with Lamima, the epitome of luxury from topsail to keel. This vessel has been custom built with the specific intent of providing the ultimate comfort, elegance and safety while maintaining the warm ambiance of hospitality.
Best time to visit.
Dry season: November – April
Best tour to Mergui archipelago 
Paradise in Mergui Archipelago: the focus of your trip will be the mysterious Mergui Archipelago in Myanmar's remote south, with 800 islands unknown to the outside world, of which names are still missing in Google maps.
—
Chao Phraya River – Thailand
Chao Phraya River, also called Maenam, is the principal river of Thailand. It flows from north to south through the nation's fertile central plain for more than 365 km to the Gulf of Thailand.
The Chao Phraya River is also known as the River of Kings. Thailand's capitals, past and present, have all been situated on its banks, as are many other cities that have lived by its water.
For centuries the Thai have made use of the Chao Phraya flow, and its canal (khlong) system, for drainage, recreation, fishing and as water supply. Many people call the banks of the Chao Phraya River home. Some ride the water to work almost every day. Others make it their main source of income
The four must-see attractions that are easily accessible from the river are Wat Pho (Temple of the Reclining Buddha), the Grand Palace, Wat Phra Kaew (Temple of the Emerald Buddha), and Wat Arun.
Cruise line:
ManohraManohra
Chartering the private Manohra Cruises ensures an experience that is bespoke to customers, in any way they choose. They will advise and work on your ideal travel itinerary, culinary desires or even musical preferences, and transform your vision into the river dining or party experience.
Best time to visit
All year round, but March – June is more sweltering.
The best tours for cruising in Thailand
Paradise Untouched takes you to vibrant cities; let you experience local cultural life, stay in the most luxury resorts; discover stunning tropical islands and white sandy beaches.
Lantern Festival Thailand: Explore the temples in Bangkok, the elephant camp in Chiang Mai and of course the special Loi Krathong. End your tour with several days exploring the turquoise water and white sandy beach of Phuket.
You have come to the end of the list. Feeling excited yet? Take your time packing for a cruise this summer.
This article is originally posted in the Travel In Style magazine, the 15th edition by Exotic Voyages.