Not just a way to end a meal with sweetness and delights, Asian desserts also help cooling off the intense humid heat during tropical summer. And unlike in most parts of the Western hemisphere, people in Asia often enjoy their dessert dishes at any time of the day, not just after main courses. Let's travel around Asia with us through these 10 dessert dishes.
Sri Lankan – watalappan
Photo: Pinterest
You will always be surprised by the little tear-shaped island of Sri Lanka. Despite being overshadowed by the giant neighbour India, Sri Lankan cuisine has its own characteristic, is nothing like Indian. It is diversifying but distinctive. Watalappan is a perfect example of this statement. A must-have for most religious festivals and social celebrations, watalappan is coconut custard pudding made of coconut milk, jiggery, cashew nuts, eggs, along with several spices including cardamom, cloves and nutmeg, watalappan is must-have for most religious festivals. Making watalappan is such a process that requires you to be familiar with all ingredients and the traditional way of cooking in this country to succeed.
Bhutan – Ngathrek Golop Lhakpa
Photo: Google Plus
It is believed that the Chinese has brought this spun sugar dessert into the far kingdom of Bhutan in the early 1700s. However, this is not just a simple Chinese confection, it also contains butter tea as well as flaked dry chili pepper, two distinctive ingredients of bhutanese desserts. Ngathrek Golop Lhakpa is usually served separately or can be eaten with apples and berries or yak milk yoghurt as accompaniment. In Bhutan food, this staple dessert dish is quite irresistible.
Myanmar – tea leaf salad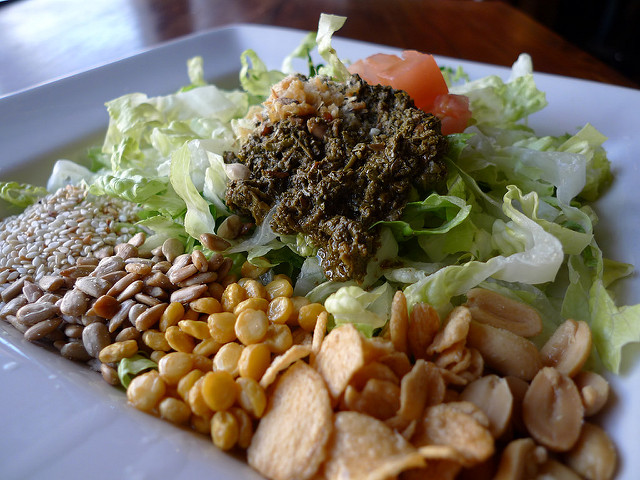 Photo: Roll Dollete
Although commonly known as a dessert, the tea leaf salad or locally known as lahpet thoke in Myanmar can be eaten at any time of the day and can be found almost in any corners of Yangon or Mandalay. Despite the fact that there are many variations of tea leaf salad in Myanmar, a proper portion must contain fermented or pickled tea leaves mixed with deep-fried beans, peanuts, shredded cabbage, oil and garlic.  It is proven that excessive consumption can prevent eaters from sleeping.
Thailand – mango sticky rice
Some of the few famous Thai foods that are not spicy, mango sticky rice or Khao Niew Ma Muang is glutinous rice topped with unsweetened coconut milk and toasted sesame along with some slices of mango. Simple but sweet and refreshing, you will love to have more than one dish of mango sticky rice while in Chiang Mai or Bangkok in a summer day.
Malaysia – kuih bangkit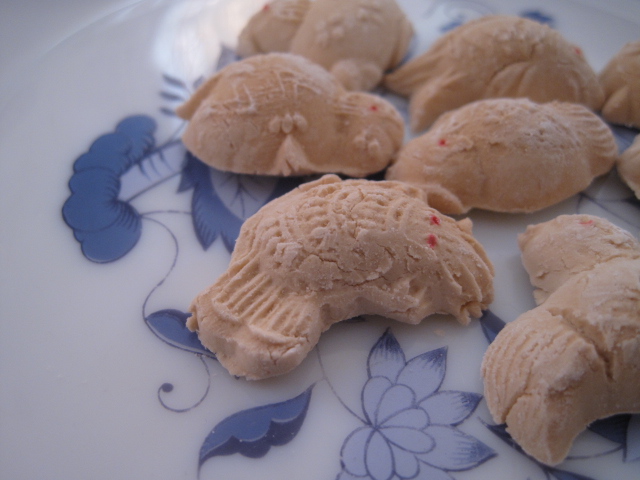 Photo: Surtr
Kuih bangkit is a must-try (also must-buy) in Malaysia. These floral-shaped coconut cookies are crumbling on the outside but will slowly melt in your mouth. They are made of sago, tapioca or arrowroot flour and infused with the fragrance of pandan leaves.
Vietnam – che
Photo: Quang Nguyen
There is seemingly an endless variety of che in Vietnam. After your bowl or high glass is filled with crushed ice, you can choose from green mung beans, black beans, red beans, corn, young rice, sweet potato, lotus seeds, jelly to fruits such as longan, mango, jackfruit, pear, mango… When you're in Hanoi, Hue or Saigon, it is not difficult to find a sumptuous buffet of che on the city streets. But if you want something fancier, che is available at restaurants as dessert selection too.
Laos – khao pard
This lovely layered jelly-like rice cake is something you will definitely encounter whilst wandering the food street markets in Luang Prabang or Vientiane, both in the morning or at night. Here they are displayed in a big chunk, waiting to be cut down to smaller rectangular portions for buyers. Khao pard usually has a green colour because it contains pandan leaves. Despite not having a strong flavour, khao pard is a kids' favourite.
Cambodia – cha houy teuk
Named as one of the 10 foods to try in Cambodia by CNN, cha houy teuk is sweet jelly made of agar (a gelatin derived from seaweed). This sweet jelly is combined with many other ingredients such as sago, red beans, jackfruit, sticky rice, taro and coconut cream. Travellers can order their own cha jelly dessert by selecting ingredients as their likings. In some ways, cha houy teuk shares many things in common with che in neighbouring Vietnam.
Japan – mochi ice-cream
Photo by stu_spivack on Flickr
Most Japanese foods look very simple but are quite delicate, and mochi ice-cream is no exceptions. Unlike most other desserts in Asia, mochi-ice cream has just been introduced in Japan in the early 1980s. These round and soft pounded sticky rice called mochi is filled with flavoured ice cream. And similar to che in Vietnam, mochi ice-cream has plenty of different flavours: from red beans, green tea, chocolate, strawberry, you name it!
China – tangyuan
Photo: Bertram Ng
It's hard to pick only one dessert in China. But if we have to select one which is both traditional and widely available, tangyuan deserves to be here. Looking like a soup, tangyuan is served in a bowl with rice balls. These white round rice balls are originally glutinous rice flour mixed with a small amount of water then cooked and served with boiling water. Sometimes, it is also mixed with sesame seeds and sugar. As a tradition, tangyuan is most often eaten at Lantern festival or as dessert in weddings or family reunion day.
This article was originally published in the 7th issue of Travel in Style, Exotic Voyages' own magazine.