Will you visit Bangkok, Hanoi, and Hoi An without trying their delicious food? These hands-on cooking classes will reveal secrets to have the best tastes of Southeast Asia.
Learning the secrets to local dishes is one of the biggest attractions of traveling. A cooking class is a great way to not only collect some new recipes but to also discover new culinary experiences and cultures. Classes often begin with a walk to a local market where you would see swimming fish, fresh herbs and many kinds of meats on the stalls as well as other ingredients that will be used in your cooking session.
Scroll down to find out the best cooking classes to delight your Southeast Asia trip.
1. Hands-on Vietnamese Cooking Class – Hanoi, Vietnam
Tam's cuisine cooking class is located in a lovely quiet local house, outside of Hanoi's hustle and bustle. It starts with a visit to a local market to learn about various local ingredients including vegetables, fruits, herbs, and spices that will go into your dish.
The class provides a hands-on lesson to prepare and cook traditional Northern Vietnamese dishes like Fried Spring Rolls, Steamed Cabbage Rolls, and Caramelized Pork with Eggs. The lesson finishes at midday for people to sit down, enjoy their own creations, and bring home their newly found knowledge of Vietnamese cuisine.
2. Learn to Cook Royal Dishes at Tha Om Garden House – Hue, Vietnam
Mentioned in one of our hottest tours at Exotic Voyages: A tribute to Anthony Bourdain- Taste of Vietnam, a visit to Tha Om Garden House could be the most unexpected delight of your trip to Vietnam. The house itself is set in a charming garden, completed with lotus ponds, trees, and pavilions. It was first built by a civil mandarin more than 100 years ago. His grandson who is an architect has renovated it to a garden house and preserved it as a beautiful treasure of Hue city.
In this class,  try your hands on some authentic royal dishes which were only prepared for the emperor, and listen to some stories of Hue's ancient cuisine and family history. Lunch is served in the garden with the dishes you've cooked, amongst the sound of frogs croaking in the pond and birds in the trees above.
3. Experience Tra Que Village and Cooking Dishes with Chef Duc of Mango Mango Restaurant – Hoi An, Vietnam
A half-day culinary journey with Chef Duc begins by meeting him at a morning market where you meet the vendors who supply Duc on a daily basis. Duc will explain the differences in each ingredient and how to recognize the freshest ones. The fish section might be the most exclusive experience, where you can see Duc choose his fish from a wide range of seafood on display.
After the lesson at the market, take a stroll through the narrow streets of Hoi An to the restaurant where the hands-on cooking class takes place. Here, Duc will share his passion for cooking with you, his deep knowledge of different seasonings and teach you about the flavor combinations that are used in most Vietnamese homes. Then, it's time for you to learn the balance between meats, herbs, and other spices in the cuisine, and make some Vietnamese dishes on your own before tasting them.
(Photo: MangoMangoRestaurant)
4. Try Cooking Lana Dishes at Pantawan Cooking Class – Chiang Mai, Thailand
The program starts with a walk through a local market with your teacher where you learn to identify different herbs and garnishes in their raw form. That is a great opportunity to see and smell all of the ingredients that you might not have experienced in your country.
During the class, your teacher will demonstrate how to cook each dish. She explains each step in detail as she does it, why she is using this herb but not the other in a specific dish, then offers a chance for you to try it out. Traditional Lanna cuisine seems much easier to cook under her patient guidance. Once you finish, enjoy your creations and receive a certificate of completion. An email of the recipes will be sent to your inbox when you get back to the hotel.
5. Follow Amita Chef guide to make Thai dishes – Bangkok, Thailand
When you are in Bangkok, you get to visit stunning temples. But if you have enough time, you might want to spend a half-day doing Amita's Cooking Class. Start off the day with an exciting ride along the Chao Phraya River towards the school which is located on the river bank. Amita's Chef and her staff will be waiting for you at the entrance to the house to take you on a tour of the garden and give you your first glimpse of Thai herbs and spices. In your cooking lesson, you'll learn to cook some of the most famous Thai foods such as Pad Thai and Coconut Chicken Thai Soup before enjoying your dishes in a delicious lunch. Leaving with a happy stomach, detailed recipes, and a great knowledge of Thai food, people, and culture is one of the best experiences you can get in Bangkok.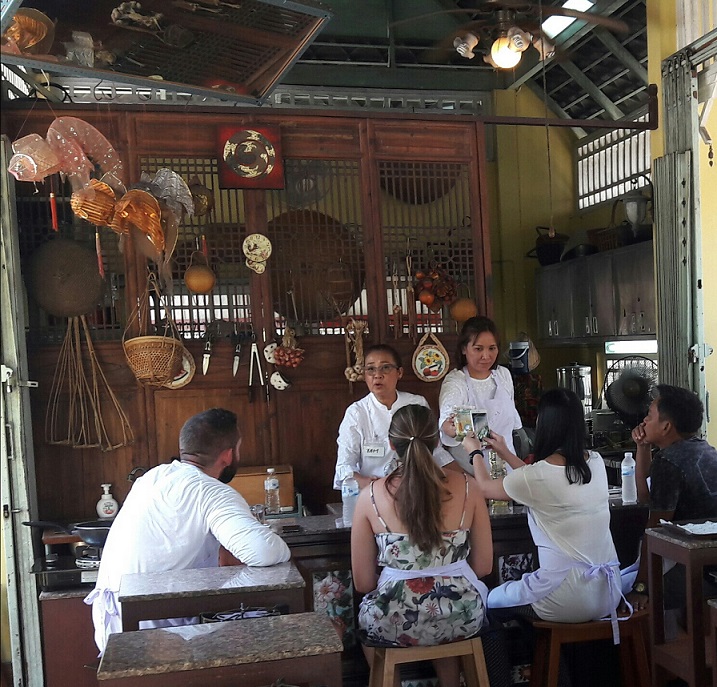 6.Taste Intriguing Flavors and Try Making Lao Food at Tamarind Cooking School – Luang Prabang, Laos
This cooking class takes place in a lush garden surrounded by beautiful nature and a small river. The day starts off with a tour of Luang Prabang's busiest market. An English-speaking guide will explain typical Lao ingredients from different kinds of rice to a wide range of seasonings. Be ready to have fun learning. You will have to do some real pounding and pummeling when you prepare stuffed chicken in lemongrass as well as other tasty dishes like fish steamed in banana leaves, Lao sticky rice, and an unusual pudding with rice and fruit. The Chef is funny, friendly and knowledgeable about Lao cuisine. He explains everything in an easy way to understand and makes sure that you leave with the confidence to replicate his recipes at home.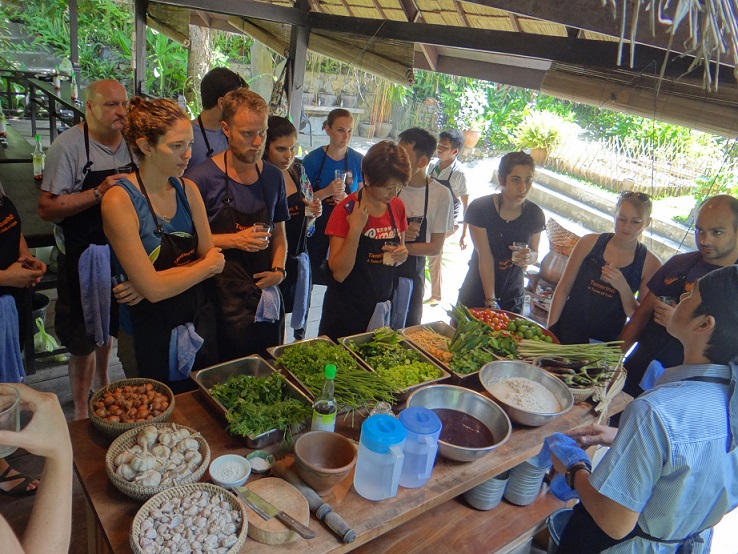 7. Khmer Cooking Class at Organic Farm – Siem Reap, Cambodia
Other ways to explore Cambodian culture besides the iconic Angkor Wat are getting to know the local life, learning Khmer greetings and rituals, and discovering traditional cuisine.
Enjoy a tour at the morning market to pick up some fresh ingredients before hopping on a tuk-tuk onward to the Organic farm where you learn some famous Khmer recipes. Each guest has their own cooking station and begins to challenge their cooking skill under the instruction of talented local chefs. It's interesting to know that some of the organic products on the farm will go into your cooking.
8. Cook & Taste Shan Food in a Floating Stilt House – Inle Lake, Myanmar
This cooking class is organized at a lovely stilted-house on the Inle Lake. You have a peaceful boat ride to the floating hut where the host family is waiting to take you a tour around their house and reveal to you their secret recipes. Everyone rolls up their sleeves and pitches in to cut, chop, stir-fry and pound the fresh ingredients bought from the market. Though the cooking class is entertaining and fun, the best moment is sure to be the time taken to sit and talk over the delicious home cooked dishes.
Inspired by one of these cooking classes? Contact us if you would like to have an awesome experience in glamorous cities and bring home some of the best authentic recipes from the Far East.