Christmas is coming to Asia! It seems everyone is rushing to all corners of streets to welcome the most sparkling moments of the year. Though Christianity is not the major religions in Asia, Christmas is now celebrated in every country here. Thus, traveling to Asia this time may bring you somehow familiar yet different feelings of this festival. Don't forget to bring back to hometown special gifts that only this area has.
Here are 10 Christmas gift ideas for your trip in Asia and especially Southeast Asia.
1. Vietnamese lacquerware:
Together with Japan and China, Vietnam stands in top 3 biggest lacquer producers in the world. For those who may not know it, lacquer is a natural substance mined from rhus tree resin and the products using this substance is called lacquerwares. This unique art of production is a time and labor intensive process Some pieces are layered with ten to 15 coats of lacquer and artisans have to wait for each coat to dry before sanding other ones onto it.
Nowadays you can easily find unique lacquer bowls or shiny small boxes with artistic details in Hanoi old streets or Ben Thanh Market, however, in the past, all lacquer things were only tributed to Vietnamese royal families.
Where to buy:
Marena- 28 Nha Chung, Hanoi
Minh Tam- 2 Hang Bong, Hanoi
Ha Thai Village- Hanoi
Ben Thanh- market
This stylish and artistic souvenir will surely satisfy anyone gifted. However, to buy top-notch and handcrafted lacquer items as your orders, you may call for the help from a Vietnamese local guide. You can even have a chance to explore the process of making a lacquer product from A to Z if visiting Ha Thai village. Let's get in touch with Exotic Voyages Travel Experts here if you need an interesting tour customized only for you.
Related tour: Finding the best of Vietnam from Hanoi, Hue to Danang, Hoi An, Saigon
2. Handcrafted clothing
Asian is big textile factory from thousands of years ago. Chinese silk is the first and most famous clothing with such a huge impact on other countries in Asia especial Southeast Asia. However, handcrafted clothing in Laos, Vietnam, Thailand or Cambodia has its own lure that once you travel around Southeast Asia, you can't help say "wow" at the uniqueness of handmade clothing here.
The distinction comes from the materials, designs, prints, and details on the cloths which sometimes represents symbols of religions or culture of ethnic people in each country. In Laos, Katu beaded textile is the most outstanding product. The fabric is made from banana fiber, naturally spun, dyed and hand weaved and needs at least one month to make. Unlike Laotian fabric, Thai textile products are often made from silk fibers with signature prints which represent daily activities, animals and religious customs in Thailand. Vietnamese silk is somehow similar to Chinese silk in terms of materials and designs, however, in some rural areas like Sapa or Ha Giang, you may find traditional fabrics of various ethnic minorities, for example, Hmong, Dao, Tay… with colorful decorative patterns that you can't find anywhere else in the world.
Handbags, purses or scarfs handmade from these above exclusive fabrics are priceless gifts for anyone on Christmas. The only problem is to find the best shop and choose the best-fitted one for your beloved people among thousands of items available in Southeast Asia.
Where to buy:
Katu styled bags are displayed at any souvenirs shops in Luangprabang or Luang Prabang night market. If you love Thai Silk, some special textile stalls in Chatuchak market in Bangkok. Hang Gai, Dinh Liet or Sapa night markets are some places you may find Vietnamese textile products with high quality.
Featured tour: An Asian Touch: Fashion & Art –  this tour combines the best of SE Asia's most beautiful countries: Vietnam, Cambodia and Thailand
3. Thailand candles and incenses
Candles are often used to remove unwanted odors or light up romantic dinners with savory wine and delicious dishes, however, in Thailand, candles have another mission- adding a spicy fragrance and smokiness by "smoking" ingredients, such as shredded coconut.
Called Tien ohb in Thai, this kind of candle is often used as an interesting ingredient in Thai cooking especially in the making of sweetmeats and desserts. The incense candle is made of organic matter including herbs and flower petals. Brown in color, it has a curved shape and can be lit on both ends.
Believe me, this exotic item like this may not be easy to find in Western countries, and will definitely become one of the best gifts that you beloved one may receive this New Year.
Where to buy:
Chatuchak market in Bangkok or any stores that carry incense and merit-making supplies you find on your journey around Thailand.
4. Handmade spa and beauty products
If you intend to buy gifts for your female beloved ones, Cambodia and Thailand are definitely the heavens on earth that you may find with girly stuff especially spa and beauty products. Cambodia has been using their surrounding environment and natural resources for centuries to produce their organic "cosmetic". Strolling around Siem Reap or Phnom Penh, you may easily find it comfortable and refreshing while smelling herbal fragrance coming from spa heating oil.
Apart from spa massage oil, people are also lured by a variety of Cambodian eco-friendly items such as bath salts, body creams, and lip balms. These gifts are usually already wrapped up in a cute box or reusable fabric bag, which could be the perfect unique gift for your friend or family member back home.
Thailand is well known for its unique massage technique and the secret inside is herbal spa products. They work well with Thai massage skills to remove entirely the tiredness, pain, and stress from your body. Herbal massage packs, carved soaps, foot soaks, and body scrubs are also among the top favorites in Thailand. Buy some for your wife, mother, female friends and co-workers. If you are buying gifts for a man, choose massage or soothing balms instead.
Not as popular as Thailand or Cambodia spa products but interesting to try is Burmese traditional cosmetic named Thanakha, which most of the Burmese females use to protect their skin and for beauty purpose. People coming to Myanmar often see women and kids there with their faces painted with white things. That's exactly Thanakha. Thanakha is made from roots and timber covers of Thanakha tree after an easy process, being soaked in water and ground in a mortar. It is smooth and smells good. Maybe it will be an exotic gift for your friends or family back home!
Where to buy:
Supermarkets for locally produced bath and body products
Harnn outlets for high-quality items
Bath & Bloom outlets
5. Traditional paintings
Southeast Asia is the home for arts and handicrafts, thus, it is worth buying an artistic product like paintings here. Coming for Cambodia, Thailand, Laos, or Myanmar, you may find common paintings that portrait the landscapes, architecture or people in each country for a bargain right from street vendors, however, never satisfy with those popular things if you don't want to bring home with copycats. Instead, delve further into the art shops and you'll find hidden art gems ranging from $7-$100 USD. They are exactly what you should buy as Christmas gifts.
If you are too familiar with oil painting or western styled art, why not go for Dong Ho Painting in Vietnam? It is a line of Vietnamese folk painting originating in Đông Hồ village in Bac Ninh province. This kind of artwork was often used as a precious decoration to celebrate Tet Holiday a long time ago. As a tradition, Vietnamese people would buy Dong Ho pictures to hang them on their wall for a year, and then replace them with new ones when a new year comes. The most interesting thing lies in the content of each painting which sometimes is a wish for luck, health or prosperity but sometimes reflects all aspects of life in Vietnam. For Christmas, if you would like to wish your beloveds wealthiness, happiness and luck, pictures named "Lon dan", "Ga dan", "Chan trau thoi sau" would be your best choice for a gift.
Where to buy:
Paintings and art shops or galleries in Hanoi Old Quarters, Luang Prabang, Bangkok or Siem Reap. If you want to buy Dong Ho painting, you'd better go to Dong Ho village in Bac Ninh.
Want to have an art tour around Vietnam, Laos, Cambodia or Thailand, contact Exotic Voyages to build handcrafted one.
6. Ceramic and porcelain items:
Southeast Asia has a rich, indigenous tradition of ancient ceramic production with centers in the modern nations of Vietnam, Cambodia, Laos, Myanmar, and Thailand. If you want to buy bowls, plates or flower vase as Christmas gift, you choose the right place to go.
Thailand is home to two famous ceramics: celadon pottery and Benjarong. Celadon pottery is glazed in the jade green celadon color, the technique often used in Sukhothai period hundreds of years ago while Benjarong refers to the traditional form of hand-painted Thai Porcelain with multi colors (often five ones). Ceramics in Laos and Cambodia get huge impacts from Thailand.
Ceramics in Vietnam, unlike two main brothers, develop its unique style from thousands of years ago. The traditional style which focuses on Thanh Hoa pottery originated from China now mixes with simplicity and distinctiveness of modern ceramic style to create an authentic style for Vietnamese pottery and porcelain.
The only way to feel the soul of ceramics is to make it your own. Bat Trang village in Vietnam is a good place to experience the process of making a pottery from scratch to finished. Want to include Bat Trang in your custom trip to Vietnam, CONTACT US NOW.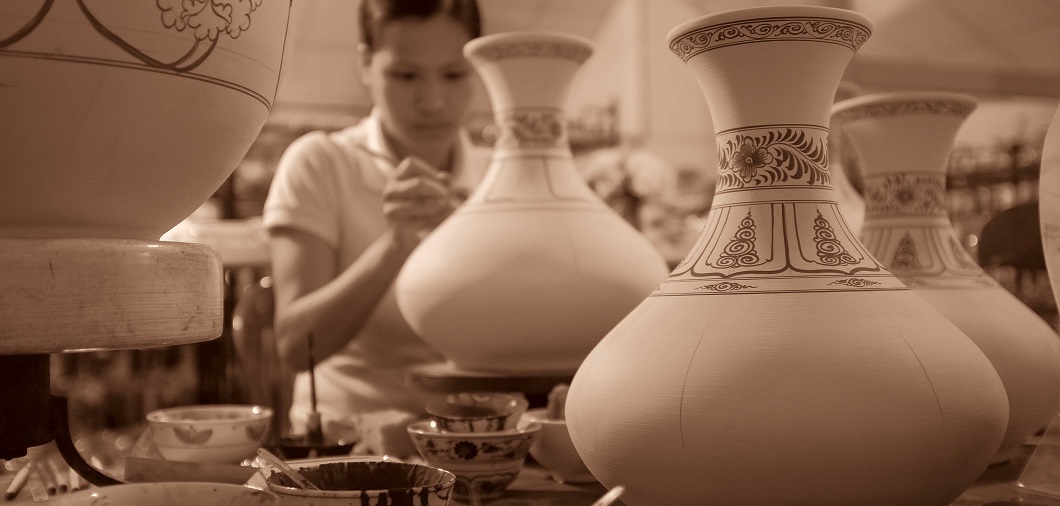 7. Vietnamese Coffee 
As the second largest coffee exporter in the world, Vietnam takes pride in various types of coffee from Arabica, Robusta to Luwak Kopi grown in the highlands like Buon Ma Thuot, Dak Lak, Lam Dong. Vietnamese people love coffee so much that drinking coffee turns into a symbolic culture in this beautiful country and you can find all types of cafe shops, cafe products anywhere around the country.
If your friends or family love coffee, why not buy them a pack of handmade coffee powder? The authentic cafe can be easily found in the kingdom of coffee in Vietnam- Buon Ma Thuot. Visiting a coffee shop here, you can choose the top-notch cafe and order the shop owner to grind, roast cafe right away. This cafe is served the best with a cafe set including a silver cafe filter and a Vietnamese porcelain cup like this. Your New Year will be "tastier" with Vietnamese handmade Cafe.
Famous Vietnamese coffee brands:
Trung Nguyen coffee
Me Trang coffee
Ban Me coffee
Vinacafe
Buon Ma Thuot is not a popular destination in Vietnam tour but if you like to drop by the kingdom of coffee in Vietnam, contact our travel expert right away.
8. Traditional clothes
A sarong from Cambodia trip, a "Sinh" bought easily in Luang Prabang,  or a tailor-made Ao Dai – Vietnamese traditional dress is the best gift for those love costume and cosplay. How about buying some and hold a cosplay party with your friends and family?
Traditional clothes are often offered in any souvenirs in Southeast Asia. Unlike Kimono in Japan, they are not expensive to buy and quite easy to try on. Sarong of Cambodia, Sinh of Laos, Myanmar or Thai traditional clothes are quite similar as they are both tub skirt made of silk or cotton that wrap around the body of men and women. This kind of dress may turn into a scarf and easily cover your body or faces when going out under the heat of Southeast Asia.
Among all, Vietnamese Ao Dai dress delivers a unique style. It reminds you of the Hongkong choengsam but with the long pants under. If you visit Hanoi or Hoian, don't ever leave without trying an Ao Dai tailor-made for you. You can also bring back home some free-size Ao Dai for your beloved ones.
Where to buy:
You can find the best Ao Dai in Hoi An, the best place for tailor-made dresses.
For Sarong or Sinh, you can easily find one in Luang Prabang night market or in Siem reap clothe stores.
In Thailand, the best place to get high-quality traditional costume is in Chiang Mai city.
Featured tour: An Asian Touch: Fashion & Art–  this tour combines the best of SE Asia's most beautiful countries: Vietnam, Cambodia and Thailand
9. Cooking Spicy
This gift is not only for food lovers but also for anyone who wants to keep a piece of culinary culture from Asian back home. Take it as interesting Christmas gifts for your beloved people after a trip to Asia.
Thai cooking spices are the most popular in Southeast Asia.The Spice Specialist Thai Spices Gift Set includes Thai curry powder, ground ginger, soy sauce powder, lemongrass powder and hot chilies. It's perfect for those interested in trying out Thai cuisine or for those adventurous in their home cooking experiences.
Lesser known but also unique spicy-gift is Vietnamese pork rub. With a flavor of a bit sweet and warm, light citrusy notes and just a tiny bit of heat that hits the back of the throat, this spicy is a great idea of adding exotic Vietnamese flavor to just about any pork dish.
Where to buy:
You can buy in any supermarket all around Southeast Asia. Some handmade one will need to be ordered in local stores.
10. Woodcarvings
All countries in Southeast Asia have excellent skills of woodcarving available at reasonable prices. The intrinsic skill of craftsmen – the same used to build the ancient temples in Angkor Wat, Ayutthaya or Luang Prabang – produces sculptures of such quality that, with artificially induced weathering, have even fooled some experts. Small statues, Buddha figures, heads, and apsaras or elephant and any religion inspired wooden items are suitable gifts for those who love culture and heritage things.
Sneaking into artistic market or corners in Southeast Asia is like traveling through time and spaces to the ancient world of Khmer, Burmese or Thai People.
But be wise when it comes to prices as lots of wooden products here are over-priced even though the quality is not that good
Where to buy: Art Market in Luang Prabang, Siem Reap, Hanoi Old Streets or Bangkok's Chatuchak are some great places to find a wooden souvenir
There are so many gifts for you to choose for beloved ones in Southeast Asia. Well, for me the most meaningful one is a journey to this amazing place where you can see, smell, experience and feel fantastic things with your whole body and soul. Want to give that gift to the ones you love? Contact our travel expert now!