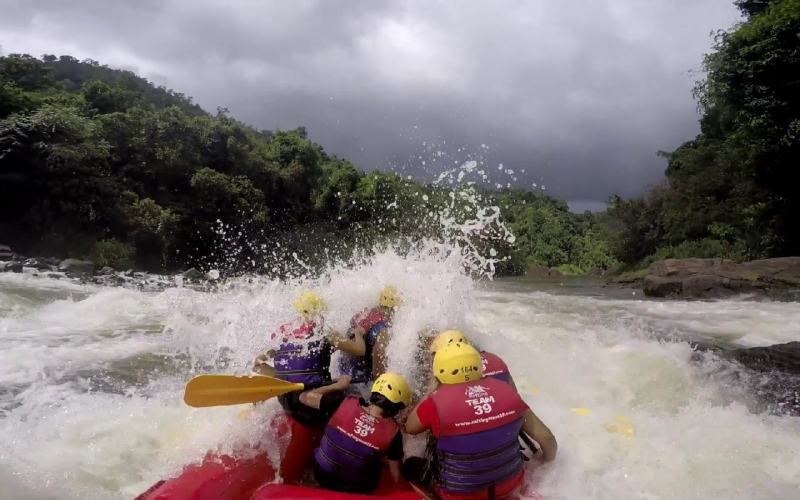 Recently, whitewater rafting has become such a popular sport in Nuawara Eliya. For their thrilling and challenging rivers, it is completely an extraordinary experience in Sri Lanka travel. Equipped with necessary certificated standards and authorization, a number of organizations provide water rafting services, ensuring safe rides for participants. First, you should know some essential tips for whitewater rafting.  Don't try doing the max level on your first ride.
Start at Kitulgala and pass the bridge in the famous film "Bridge on the River Kwai". Kelani River, located near the Hatton-Nuwara Eliya Road offers rafting on a higher elevation with a spectacular scale view of the mountains around with a refreshing climate and atmosphere. It flows through tropical jungles and provides the perfect setting. for white water rafting, The Kelani River flows passing the rock-stream and fast-moving waterways offer plenty of fun and pleasure for adventurers. 2-hour whitewater rafting in Nuawara Eliya is actually the most exciting moments in your time life. It is also another way to experience all the scenic beauty of Sri Lanka.  It is likely you can conquer imposing nature.
Scheduled departure: Private transfer will pick you up at 2:00 pm and the trip departs from your hotel to Nuwara Eliya.
Exotic Voyages say: Please don't allow children under 12 years old do whitewater rafting in Nuwara Eliya.  Black rafting is conducted specially for the participants who seek a very adventurous white water rafting experience at the night time.